Opinion
Idaho – -(AmmoLand.com)- I just got a Puma XP Forever Knife and Hatchet Camping Combo which prompted me to want to go camping. Summer is here!
Well, almost. As I'm typing this Product Review it is the middle of June and it is only 54 degrees, so it feels more like spring. But any second it should get hot and time to head to the mountains to cool off. Officially the camping kicks off in Idaho Memorial weekend. The towns are vacant and the mountains are packed.
As I type this product review, I'm ready to get away. I've been way too busy this spring and haven't been able to get out as much as I want. For instance, I was over in SE Idaho last week. Ran home Friday afternoon, threw my gear in the truck and drove to the Idaho Ford Center to conduct seminars at The Great Northwest Outdoor Expo. Crosman had me conducting two airgun seminars, Smith's had me conducting two Knife Sharpening & Choosing The Proper Knife seminars, Riton Optics had me conducting a Glassing For Big Game seminar and Aquamira a Backpacking 101 seminar.
So I was tied up all weekend and then Sunday night I had to run to the Nampa Gun Range for the Scooter's Youth Hunting Camp volunteers BBQ. Ok, actually it was for the combat trap shooting event. Then I have to type articles all day Monday, then run to Burley at 5:30 in the morning, then run home that night and jump on a plane Wednesday morning to help with the Rodeo Bible Camp over in Hugo, CO. for the rest of the week.
I'm tied up until the middle of August and at the show this weekend I worked a lot more article assigments so who knows when I'll be free. So with all of that said, I'm sitting here looking at the Puma XP Forever Knife and Hatchet Camping Combo and thinking life is too short and the summer is already almost totally booked. So, I'm about to call in sick, grab my family and go to the mountains and take out my pent-up energy on a log with my XP hatchet!
If you're new to camping and need to stock up on gear I'd recommend that you buy the Puma XP Forever Knife and Camping Hatchet combo set. Combo sets in the knife world are not necessarily anything new but it seems like the last 10 yrs. I see more of them. In the camping realm, this is one of the better combos that I've seen. Let's cover why I say this.
We'll start with the hatchet. At times your tasks will not call for an all-out Paul Bunyan ax. You need something that is more packable and lighter weight. A hatchet fits the bill. I like the High-Country Packable Hatchet that is included in this combo. It is a little lighter than a lot of hatchets that I've owned, has a nice Comolded ABS handle and comes with a nice canvas sheath.
I like the sheath. It is sturdy and utilizes two snapping straps to hold the hatchet securely in place. Along the cutting edge, the sheath has brads so if dropped or in a horse wreck you won't get cut. Along the back of the handle are thumb grooves for additional stability. Mine came sharply from the factory and cuts well. You can use the back of the hatchet to drive tent stakes.
The knife also comes with a canvas sheath. I like that it snaps tightly in the sheath so it won't fall out and get lost. It also comes with a Firestriker to aid in starting fires and has its own pouch on the front of the knife sheath.
The knife is what I would classify as a camping/survival type of knife. It has a heavy, thick blade that can be used for chopping kindling and other camping tasks. The handle on the Forever knife is also Comolded and has definite finger grooves so you feel like you have a firm grip on the knife while using it. I wish it had thumb grooves on the spine. My thumb automatically goes to that spot when grasping it. There is also a hole on the hilt if you want to tie on a lanyard. Both the knife and the hatchet have belt loops on their sheaths so you can wear them on your belt.
The MSRP on the Puma XP Forever Knife and Camping Hatchet is only $49.99, so you get a lot of bang for the buck. And as is usual, we will close with the specs.
DESCRIPTION
XP Hatchet specs:
Lightweight hatchet ideal for backwoods
420 Stainless Steel
5MM thick blade
Lifetime limited warranty
Co-molded ABS handle
Includes sheath
Overall Length: 11.5″
Weight: 16.5 oz
Blade Length: 3.5″
Blade Steel: 420 Stainless
XP Forever Knife specs:
Firestarter Included
55-57 Rockwell Hardness Proofed
Co-molded handle
Limited Lifetime Warranty
Sheath includes a pocket for firestarter
Overall Length: 9.8″
Weight: 8 oz
Blade Length: 4.76″
Blade Thickness: .19″
Blade Steel: 440 Stainless
If you like this combo you might also want to check out the Puma XP Bush23 Machete so you have the complete set.
---
About Tom Claycomb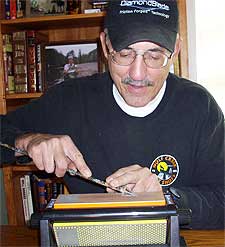 Tom Claycomb has been an avid hunter/fisherman throughout his life as well as an outdoors writer with outdoor columns in the magazine Hunt Alaska, Bass Pro Shops, Bowhunter.net and freelances for numerous magazines and newspapers. "To properly skin your animal you will need a sharp knife. I have an e-article on Amazon Kindle titled Knife Sharpening for $.99 if you're having trouble."
Disclosure: Some of the links below are affiliate links, meaning at no additional cost to you, Ammoland will earn a commission if you click through and make a purchase.