Opinion: Tom reviews the Ruger Security 9 Pistol. We are giving this pistol away along with a Ruger PCC. Enter here!

USA – -(AmmoLand.com)- The cowboys were onto something.
Back in the day, it made logistical sense to carry a handgun and rifle chambered in the same caliber. With only one type of ammo to carry, the "horse unions" couldn't complain too much about excess weight and their riders could get by with using just one bullet mold over the campfire.
Even when using a "handgun" cartridge in a rifle or carbine, there are some essential benefits. The longer sight radius of the rifle makes aiming at distant targets easier. Much easier. The additional weight of the rifle over the handgun helps mitigate recoil, and that also helps improve shooting performance, especially when firing more than once. Last, and certainly not least, those extra inches of barrel length enhances the performance of the handgun cartridge, at least in terms of velocity. Until the point where friction becomes the dominant force, you'll get an extra 20 to 50 feet per second of additional speed for each extra inch of barrel length.
Ruger Security 9 Pistol
More recently, Ruger has done a similar thing with their Security 9 pistol and PC Carbine. Technically, the same marriage applies between the Ruger American Pistol and the PC Carbine if you use the right magazine well adapter, but since we're talking Security 9 here, we'll stick to that configuration.
The Security 9 pistols can best be described as Ruger's affordable reliability offering. It's a basic pistol that doesn't include some of the fancier features you'll find in the Ruger American Pistol. The Security 9 carries an MSRP of $379 while the Ruger American lists for $579 so the feature difference is to be expected and even welcomed if you need to save a few bucks. As just one example of the differences, the Security 9 uses an aluminum internal chassis while the American uses steel. More machining time means more dollars on the price tag.
As the name implies, the Security 9 is a 9mm pistol and is currently available in full size and compact forms. The Ruger standard models are all black with a polymer frame combined with steel where it needs to be, but if you shop around, you'll find distributor exclusive models in a variety of frame and slide color combinations. You can also order a version with a factory mounted Viridian E-Series laser mounted forward of the trigger guard.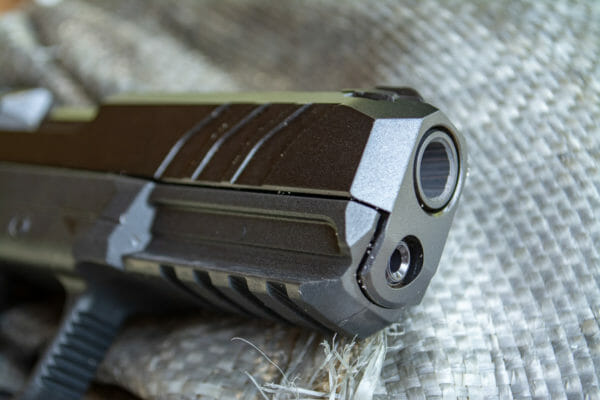 The full-size Ruger Security 9 Pistol, which is part of this giveaway, comes with two standard 15-round magazines unless you live in an oppressed state. Those living under iron-fisted rule can get a 10-round configuration. The Compact model offers a standard 10+1 capacity and also includes two magazines.
The frame is all polymer, with the aforementioned aluminum chassis inside to provide structure. You'll notice that the frame is fixed in size and shape – there are no replaceable backstraps to adjust grip size. That's one of the cost-saving measures of the Security 9 family. I would describe the texture as "mellow skateboard tape." It's got some tackiness, but the surface isn't sharp or abrasive. I had no trouble controlling the pistol with this texture, and it would be great for inside the waistband carry since it won't rub your body raw. There is a rail segment up front for lights or lasers. The frame is slim for a full-sized pistol. I measured the grip at just 1.15 inches thick.
The internal action, called Secure Action by Ruger, comes from the LCP II and is a hammer-fired design. The hammer is internal, but there's a notch in the back of the slide where you can see its status. One benefit described by Ruger is the lower slide racking force, and you can notice that. While hard to quantify, it seems much more comfortable to rack this slide than those of similar striker-fired pistols.
The Security 9 has a manual safety on the left side. It's frame mounted and locks into the base of the slide. When engaged in the safe position, it prevents the slide from moving and blocks the trigger from full motion. The lever is small and subtle but easy enough to push down into the firing position with your thumb. It won't engage at all unless the internal hammer is cocked. Like most other modern pistols, there are "internal" safeties too. The trigger has a safety leaf that prevents full motion unless it is depressed. There's also a hammer block inside that won't allow the hammer to fall unless the trigger is pressed.
The sights are basic but effective enough. The front with white bead is semi-permanently mounted in a dovetail slot. The rear sight housing is adjustable for windage. The rear notch is surrounded by a white "U" much like Glock sights.
Shooting the Security 9
The trigger in the Security 9 is not bad at all. I measured the pull weight at 4 ¾ pounds using a Timney spring scale. It's got maybe 1/16th of an inch of light take-up followed by consistent pressure until it breaks after about 3/8ths of an inch of total movement. The movement is not gritty and didn't have a detectable over travel. It also has a detectable reset after 3/8ths of an inch of forward travel. Considering the price point, it's a good, solid trigger.
The Security 9 is easy enough to shoot. Its 23.8-ounce empty weight and hand-filling size make recoil light and follow-up shots easy. I didn't shoot this pistol off a bench for 25-yard accuracy, mainly because the pistol and my frame-mounted handgun scope refused to play nicely together. So, I shot it freehand at targets from 7 to 15 yards. I tested a wide variety of ammo, both FMJ, and premium defensive types ranging in weight from 115 grains to 147 grains. All functioned flawlessly. As for accuracy, you can expect something in the "service grade" arena. If you want to hit paper plates at 15 yards, you can do that with relative ease. If you want to print one to two-inch groups, take a step up to the Ruger American pistol. This one will get the job done at defensive distances.
Since we're pairing this pistol in the giveaway with the Ruger PC Carbine that shares both caliber and the Security 9 magazines, I did chronograph all the ammo I tested to see how it compared to results from the longer-barreled carbine. On the whole, the Security 9 will generate a couple hundred feet per second less velocity with 12 inches less of barrel length.
| | | |
| --- | --- | --- |
| Ammunition | Ruger PC Carbine Velocity (fps) | Ruger Security 9 Velocity (fps) |
| Speer Gold Dot 9mm 124 grain | 1,277.7 | 1,091.7 |
| Federal HST 9mm 124 grain | 1,264.3 | 1,096.5 |
| Sig Sauer V-Crown 9mm 124 grain | 1,323.0 | 1,132.0 |
| Sig Sauer FMJ 9mm 115 grain | 1,309.7 | 1,106.0 |
| Inceptor ARX 9mm 74 grain | 1,660.7 | NA |
| Sig Sauer M17 V-Crown +P 9mm 124 grain | 1,257.3 | 1,142.0 |
| Sig Sauer M17 FMJ +P 9mm 124 grain | 1,438.7 | 1,225.7 |
| Federal Syntech Training Match 9mm 147 grain | 1,144.3 | 969.8 |
| Federal Syntech Defense 9mm 138 grain | 1,240.7 | 1,044.0 |
| Blazer Brass 9mm 147 grain | 1,201.3 | 969.3 |
All in all, the Security 9 Handgun is a solid pistol for the budget conscious. I had no problems of any kind with reliability with any ammo type tested and that's the primary job requirement for an affordable handgun. It's comfortable to shoot and paired with a PC Carbine, makes a great home-defense setup or gear for a fun day at the range.
Ruger Security 9 Pistol Specifications
Capacity: 15+1
Barrel Material: Alloy Steel
Barrel Finish: Blued
Barrel Length: 4″
Overall Length: 7.24″
Sights: Drift Adjustable
Weight: 23.8 oz.
Grip Frame: High-Performance, Glass-Filled Nylon
Slide Material: Through-Hardened Alloy Steel
Slide Finish: Blued
Slide Width: 1.02″
Height: 5″
Grooves: 6
Twist: 1:10″ RH
Available in CA: No
Available in MA: No
Suggested Retail: $379.00
---
About Tom McHale

Tom McHale is the author of the Practical Guides book series that guides new and experienced shooters alike in a fun, approachable, and practical way. His books are available in print and eBook format on Amazon. You can also find him on Facebook, Twitter, Instagram, and Pinterest.