Opinion
USA – -(AmmoLand.com)- Here is what the NRA (National Rifle Association) needs right now! It needs a reboot at the top… the house needs to be clean.
The officers and the Board Members that have been trying to convince you that everything is okay (Meadows, Lee, et al), the old guard that prefer the status quo (Porter, Hammer, Printz, et al) and those newer Board Members who are either parroting the message or keeping their heads down (Rathner, Lightfoot, Colandro, et al) need to go.
Is there room for the latter group to speak up and change their colors? Maybe… but, that opportunity gets less and less likely each day that they don't do it.
Meanwhile, people wonder if those of us who are so vocal about the PROBLEMS have any SOLUTIONS to offer. Well, yes… we do.
I spent an hour talking with Armed American Radio's Mark Walters earlier this week going over the Five Points of NRA Reform that have been proposed by Savethe2a.org.
1. Make the Board Smaller
2. Put Term Limits in Place for Directors
3. Stringent Attendance Requirements for Directors
4. Engage Members in more than just Fundraising.
5. Narrow the Focus of the NRA's messaging.
Learn more about the points and why they are important at the organizations website and LISTEN to this hour of radio:
---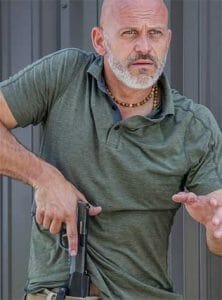 About Rob Pincus
Rob Pincus has been educating people about defensive shooting and related personal defense topics for over two decades. He is the Executive Director of Personal Defense Network and the owner of I.C.E. Training Company. He has authored several books, produced over 100 training DVDs, appeared on several TV & Radio shows and trained military, law enforcement and armed individuals around the world. His advice focuses on efficiency and practicality based on his own experiences and continuing research of both real-world events and cutting edge training practices. www.icetraining.us