By Graham Baates YouTube personality, Graham Baates, gives us a video review of the Threaded Bersa Thunder 380.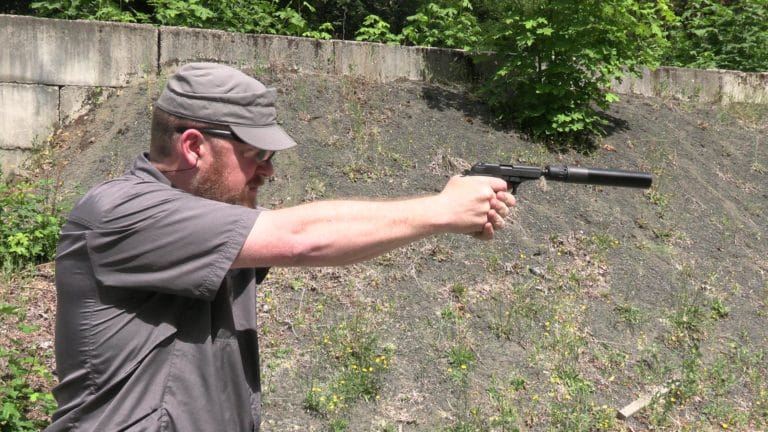 USA – -(Ammoland.com)- With more than 1 Million sold in the United States the Bersa Thunder is undeniably popular.  They're affordable, reliable, and offer Walther PPK/S-like looks.
Threaded Bersa Thunder 380
Though the aluminum frame remains light, the pistol's overall size and weight make for an incredibly pleasant shooting experience from a package still small enough to conceal.  Bersa, imported by Eagle Imports, was looking for a way to refresh their product line without detracting too much from the design that has become a classic.  Adding a threaded barrel was a logical conclusion, especially considering that the Thunder's barrel is fixed.  For those unfamiliar with the Thunder 380 a tabletop review and field strip can be seen below.
Threaded Bersa Thunder 380 specifications below give a frame of reference for how just-right-sized the Thunder 380 is:
| | |
| --- | --- |
| Caliber | .380 ACP |
| Action | DA/SA |
| Capacity | 8+1, 7+1 |
| Barrel Length | 4.25″ |
| Front Sight | Dovetail |
| Rear Sight | Notched-Bar Dovetailed |
| Finishes | Matte Black |
| Grips | Checkered Polymer |
| Construction | Alloy Frame / Steel Slide |
| Safety | Integral Locking System, Manual, Firing Pin |
| Weight | 20.5000 |
| Length | 7.32″ |
| Height | 4.9″ |
| Width | 1.3″ |
Lore from years ago still haunts the internet with stories of Bersa's from decades ago.  It seems internet lore never dies, and the firearm community is certainly guilty of spreading lore.  Why is that?  Is there so much machismo that we're afraid to say when we don't know something or is it the pressure behind the counter at the gun store inspiring the salesman to just make stuff up?  Regardless, Bersa has changed.  To test this, along with how the little .380 gets along with various loads we of course conducted our signature, "What's for Dinner?" test of ten different loads including various bullet weights and designs.  We also did some shooting with an older Griffin Armament Revolution 9 attached because, well, it has a threaded barrel!
See the results below.
Thanks to a naturally subsonic bullet it was very quiet to shoot suppressed, but recoil was a bit stouter with the suppressor attached.  As shown in the high-speed footage the slide is cycling a lot quicker due to the increased back pressure.  A quick search of the internet yielded no results for an increased-strength recoil spring to soften the blow.  Hopefully Wolff Springs or another won't be far behind with one.  The recoil isn't painful, but the slamming can't be good for the frame in the long run.  The positive is that the fixed barrel makes for an excellent suppressor host.
Those who don't have a suppressor can enjoy the slight increase in velocity.  The extra length needed for threading brings the Thunder 380's barrel length to 4.25″ which is longer than most other 380s out there.  Recoil remains just as soft, the pistol is just as easy to operate, but it now delivers about the most energy out of 380 that one can commonly find.
---
About Graham Baates
"Graham Baates" is a pen name used by a 15-year active Army veteran who spent most of his time in the tactical side of the Intelligence community including tours in Afghanistan and Iraq. Post-Army Graham spent some time in the local 3-Gun circuit before becoming a full-time NRA Certified defensive handgun instructor and now works as an industry writer while curating a YouTube channel on the side. Visit Graham on Youtube .