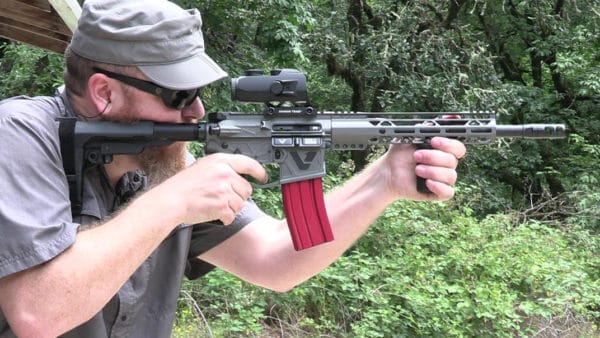 USA – -(Ammoland.com)- Dark Storm Industries offers a solution to the National Firearms Act restrictions with its Non-NFA Firearm Variant 1.  Before diving into the firearm itself a bit of back story is needed.  The National Firearms Act (NFA) defined the classifications of firearms and when combined with other laws is largely what determines which box is checked on a transfer form and which local laws apply.  I am not an attorney and none of this should be taken as legal advice, I mean only to provide a brief familiarization.  The acceptance of a stabilizing brace and its occasional use to stabilize a pistol against the body blurred the practical application of gun classifications as "pistols" became something that could be fired more like a "rifle".  Other devices like the Pistol Storage Device augment reality even further with their own classification that is neither a stock nor brace yet certainly can be used to physically stabilize a firearm for safer operation.
One hangup for a lot of stabilized pistol users is the prohibition on vertical foregrips.  Adding a forward vertical grip to a pistol creates an, "Any Other Weapon" which requires a tax payment and paperwork much like a short-barreled rifle, though the tax is considerably less at just $5.  So how then has Dark Storm Industries created a firearm that can be fired as seen in the cover photo?  See the tabletop video below for a more in-depth description.
With that out of the way we can finally pay attention to this beautiful firearm.  As you saw, attention to detail and precise machining is a definite theme with this firearm.  One thing that suprised me was just how light and balanced it feels.  It's en vogue for manufacturers to advertise products as lightweight, but with billet receivers I was doubtful.  I was wrong to be so.  I'm sure the shorter barrel has something to do with it, but the gun just feels perfectly balanced and very easy to orient to the next target.  If time permits I'd like to run some target transition drills with it compared to other AR pistol builds.
Speaking of builds, here are the product specifications as taken directly from the product web page:
Precision CNC from aerospace aluminum billet 7075-T6
Intricate lightweight design
Custom Tungsten Cerakote Finish
Upper/lower tension screw setup
M4 feed ramp extensions
Forward assist (Removed from similar high end rifles)
Edges deburred for clean smooth finish
Allen screw bolt catch pin
Allen screw forward assist pin
Winter trigger guard
DSI Billet Ambidextrous Charging Handle
DSI Billet Ambidextrous 90 Degree Safety Selector
DSI M16 Bolt Carrier Group
DSI Ultralight Narrow Profile M-Lok 9″ Forearm
DSI Steel Micro Gas Block
Carbine Gas System
DSI 12.5″ 5.56 Threaded 1:7 Nitrite Barrel
DSI Competition Compensator
Magpul PMAG 30 (Available with 10 RD magazine for Connecticut and New Jersey)
SB Tactical SBA3 Adjustable Arm Stabilizing Brace
Ambidextrous Sling Plate
Hogue Pistol Grip
Optic Ready (sights not included)
Trigger Lock
​MADE IN NEW YORK, USA
Keeping in mind that milled receivers are not necessarily cut to "mil-spec" and also that Dark Storm keeps their tolerances tighter than your average high-volume factory I was curious about magazine fitment.  Steel and aluminum magazines like DuraMags can generally be counted on to always fit, especially steel magazines as the material is thinner than aluminum, but polymer magazines have not only thicker walls, but also naturally absorb and expend moisture to match ambient air.  This means polymer magazines are possibly thicker to begin with, and change dimensions slightly with their environment.  So which polymer magazines fit and function with the Variant 1?  We tested that as well as five different loads for groups at the reasonable range of 50 yards.  Results and commentary are in the video below.
The carbine-length gas system along with some un-mentioned tricks in their buffer system made the Variant 1 a VERY smooth shooter.  The muzzle brake certainly contributes, but also brings some percussion.  After spending a couple of days on the range with the Variant 1 I'm not sure how I want to use it. Is this non-NFA firearm a glamour gun or the one that rides tucked away in a go-kit?  The challenge is that the Variant 1 could easily serve both roles.
---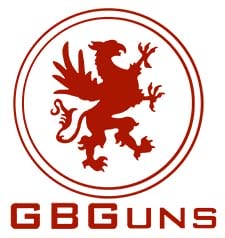 About Graham Baates
"Graham Baates" is a pen name used by a 15-year active Army veteran who spent most of his time in the tactical side of the Intelligence community including tours in Afghanistan and Iraq. Post-Army Graham spent some time in the local 3-Gun circuit before becoming a full-time NRA Certified defensive handgun instructor and now works as an industry writer while curating a YouTube channel on the side. Visit Graham on Youtube .