This week Tom reviews the Smith's Edgesport 6.3" Boning & Fillet Knife.
Idaho –  -(AmmoLand.com)- For the last 13 yrs. I've tried to get at least 9-10 of the major knife companies to produce a 6-inch boning knife for us outdoorsman. I told them I'd help them get it on the map. One came close. I helped him design it, and he even flew to China and made some prototypes. But at the last minute, he dropped the project (and of course never paid me), and that was the end of it. So it has been a big-time frustration for me since I saw a huge untapped market and yet no one wanted to fill that gap.
Look at Harley Davidson. Not that I am a biker, but they have HD jackets, boots, shirts, heck, probably even HD underwear. Every group wants its own brand of items. We outdoorsman don't want to use grubby old packing plant knives, do we? No! We want an outdoorsman knife. For example, a Deer Boning knife. I knew it'd be a home run deal.
Last year at the SHOT I was talking to the Smith's Consumer Products group, and they told me that they were about to unveil a line of knives. I told them we desperately needed a 6-inch boning knife. Viola, I am currently testing one!
Let me digress. I obviously deal with a lot of outdoor companies but I'm having to think really hard to come up with one that is more creative and innovative than Smith's. They come up with products faster than I can test them.

And not many companies actually want constructive criticism. Years ago Smith's had me test every product in their outdoor line. They're serious about making functional Outdoor products.

Their innovation impresses me. They come out with new items faster than I can keep up with. Here's why that impresses me. When I got out of college I was interviewing around and one company advised me to hire on with a company that invested 20% of their earnings in research & development. He used the example of a major sports drink company at the time. Forty years ago it was the only game in town. What if that were your only product? Granted, it was/is a homerun hitter but what if someone comes out with a new product and edges you out? Your company is sunk.

So with all of the above said, you can understand my excitement when I received the new Smith's Edgesport 6" Boning/Fillet Knife. I'm into boning knives big time. There are a lot of great features with this knife so let's get started on the Product Review.
Smith's Edgesport 6.3" Boning & Fillet Knife
The Smith's Edgesport 6.3 Boning/Fillet Knife's blade is listed as 6.3," but the actual cutting edge is 6", which is my preferred length. The handle sits in my hand so firmly that it almost feels like it is glued tight. The finger guard is super, and there is a thumb pad on the top of the handle that works.
Now for one of the most important features. The flex is perfect for boning your big game and filleting fish. It amazes me how many knife companies screw up on the flex. Most knives are super flexible, so you have no control when boning or filleting. You don't want that. The spine has to be ground at the exact spot and to the correct thickness to obtain the proper flex. So in a nutshell, this is a great boning/fillet knife.
There's a hole in the hilt of the handle in case you want to install a lanyard. Normally I favor a wood handle like on the Dexter Russell Don't Tread on Me because they are a lot more dexterous than the plastic ergonomically designed handles everyone uses now. But I love the handle design on this knife.
Now for a huge added feature. Up until now boning knives didn't come with a sheath (that I know of). I've made them out of leather and metal and finally settled on the Forschner clamshell scabbard. Fear no longer. Smith's has designed the perfect sheath. It has a thin, sleek design and a lever that fits over the finger guard which holds the knife firmly in place. It also has five slots on each side so the knife can dry out and not rust.
Due to the design of this sheath, it appears that you can safely carry it in your backpack/saddle bag so you can safely carry it into the backcountry to bone out your elk/deer/moose/bear.
The Smith's Edgesport 6.3 Boning & Fillet Knife gets a big two thumbs up rating. And you get all of this for an MSRP of only $24.99.
Smith's Edgesport 6.3" Boning & Fillet Knife Features & Benefits
Custom textured rubber grip
6.3" 420 Stainless steel blade
Lanyard hole
Sheath included
---
About Tom Claycomb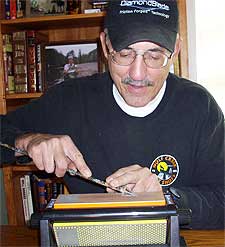 Tom Claycomb has been an avid hunter/fisherman throughout his life as well as an outdoors writer with outdoor columns in the magazine Hunt Alaska, Bass Pro Shops, Bowhunter.net and freelances for numerous magazines and newspapers. "To properly skin your animal, you will need a sharp knife. I have an e-article on Amazon Kindle titled Knife Sharpening for $.99 if you're having trouble."
Disclosure: Some of the links below are affiliate links, meaning at no additional cost to you, Ammoland will earn a commission if you click through and make a purchase.