Idaho – -(AmmoLand.com)- I've received Press Releases from Cameron at Wazoo for quite a while on various products. I'm headed out of the country in a few weeks so when I saw that they had the Wazoo Cache Money Belt, I had to test one out. I think that I am semi protective of my stuff and luckily never have been pick pocketed. It'd be bad enough in America, but what if you're out of the country? Or have your passport stolen? It might not help, but you can keep copies of your passport, ID, etc. in the belt while traveling which may be able to help you out of a jam somewhat.
Also, on the Wazoo website, you'll notice that they promote carrying their Adventure Kit in the belt which is an ingenious and compact survival kit. Like I say, the reason that I got the Wazoo Cache Belt is for concealing money and important papers but let's check out the Wazoo Adventure Kit that goes hand in hand with the belt as soon as we get done to covering the belt.
Now back to the Wazoo Cache Money Belt. All of the money belts that I have seen before have a zippered compartment on the inside. The Wazoo Cache Money Belt has a large 1"x26" Velcro pouch. The bottom of the inside piece of Velcro is loose so you can lay it over your items.
So if you just want a super money belt. This is it. But if that is all that you use it for, you're only utilizing 10% of what it was designed for. These guys designed a belt that is a mini backpack. They sound like a lot of gung-ho young guys that like to do sports outdoors and hit it hardcore. The belt comes in four sizes — small, medium, large, and X-large.
Wazoo Adventure Kit
Now let's get into the Wazoo Adventure Kit. It is comprised of 23 tools. Here is what is included: Ferro Rod Striker Brass Wire, Ferrocerium Rod, Magnetized Needle,  Water Bag, Signal Mirror, Purification Tabs, Zip Ties, Whistle, Fishing Wts., Ranger Bands, Cord, Fishing Line, H2O Pre-Filter, Compass, Fishing Hooks, Foil, Wire Saw, Ceramic Knife, Duct Tape, Safety Pins, 1St Aid Tinder, Flashlight.
(While flying I always carry some big zip ties in case we need to knock a terrorist on the head and hand cuff him. These would fit fine in the belt).
That's a lot of gear packed into one small package, much less that it can all fit into the Wazoo Cache Money Belt. I can't cover every item but will cover a few that stick out to me as unique. The first one is the water bag. They claim that you can hold it over a fire and boil water in it to purify it. That's wild. Next is the wire saw. That might come in handy.
And then the third item is the compass. I carry a compass everywhere I go. A compass is a big deal to me. I travel a lot. When I lived in Northern Colorado, it was easy to keep oriented. You knew the mountains were to the West of you. But in a big flat city, it is easy to get turned around. If I'm lost, I whip out my compass. If I know an interstate is North of me, I find the main road heading that way, and I'm set. You don't want to get lost in a major city and end up on the wrong side of town, or you may get killed. Losing your compass can be a life and death mistake in the city or the mountains. On life-saving items, you need to carry two. This one will be my back-up.
So, will I carry every item in the kit? No. But I've never seen a kit yet that I didn't want to tweak somewhat. But would I still recommend buying the Wazoo Adventure Kit? Yes, I think it would be beneficial to have in a pinch.
Check the video above that gives a 30,000-foot view of the products that I thought was interesting. The MSRP on the Wazoo Cache Money Belt is only $40 which I think is a good deal. It is the nicest money belt that I have seen. And, it is made in America. The MSRP on the Wazoo Adventure Kit is $80.00.
---
About Tom Claycomb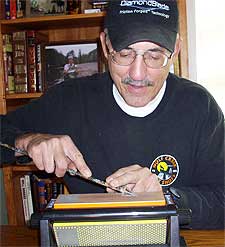 Tom Claycomb has been an avid hunter/fisherman throughout his life as well as an outdoors writer with outdoor columns in the magazine Hunt Alaska, Bass Pro Shops, Bowhunter.net and freelances for numerous magazines and newspapers. "To properly skin your animal, you will need a sharp knife. I have an e-article on Amazon Kindle titled Knife Sharpening for $.99 if you're having trouble."
Some of the links on this page are affiliate links, meaning at no additional cost to you, Ammoland will earn a commission if you click through and make a purchase.