U.S.A. – -(Ammoland.com)- "Impeachment probe puts federal gun law deal in limbo," The Connecticut Post reported Thursday. "New federal gun laws may be an early casualty of the enmity between President Donald Trump and congressional Democrats who have just launched an impeachment probe of the president."
That was my reaction two days earlier after seeing the blaring headlines on Drudge.
"It looks like 'universal background checks' and 'red flag laws' are on the back burner," I surmised.  Even so, noting that Mr. Trump now really needs to keep his supporters rallied, a tweet from the president came across as bizarrely counterproductive:
"The Democrats are so focused on hurting the Republican Party and the President that they are unable to get anything done because of it, including legislation on gun safety, lowering of prescription drug prices, infrastructure, etc. So bad for our Country!"
Really? Now's the time to demotivate the gun owners who put him in office? Not coming up with new infringements is what's "bad"?
Evidently that attitude came as a surprise to gun-grabbing Senator Chris Murphy, too. He told the Post he assumed his support for impeachment would derail the deal.  Instead, the White House reached out to him with assurances:
"They were pushing back on my pessimism," Murphy said. "I'm glad to continue to talk to the White House."
And of course, he described the "deal" offered up by the unsurprisingly disappointing AG William Barr as "flawed," meaning it was not enough. News flash to Republicans: It never will be. The Dems will happily snap up every concession you offer them and then turn around and smear you as "extremists" and "pawns of the NRA" who "never compromise" as they advance step-by-step to the next goal, and then the one after that.
Why that lesson is evidently so hard for the GOP to learn is baffling. It's enough to make you think they know perfectly well what's going on, but need to continue with the "good cop/bad cop" charade until they no longer do.
So what is Donald Trump doing? Is he offering another "3D chess" feint to distract from the impeachment probe and keep it from going any further? Is he dragging thing on to keep the gun bills from advancing? Is he showing his true nature and figuring he can get away with whatever he wants because desperate gun owners have no other place to go?
If so, that's a miscalculation, because like it or not, there are gun owners who have had it and are talking about giving up on elections and drawing lines in the sand. If Trump wants to win in 2020, he has to realize he can't afford to give up those votes.
Through his own words and actions, this president, elected in large part on a "pro-gun" platform, has created tremendous doubt within the gun owner community. The fallout could result in a virulently anti-gun Democrat capturing the Oval Office, and then showing us what s/he can really do to expand on executive orders – especially if continued Republican fecklessness and betrayals result in the Senate turning blue as well.
As terrible as that prospect seems, there's another concern that can't be left unsaid if radical Democrat overreach makes the Party implode and Trump manages to get himself reelected in 2020: If he's willing to betray us now, when he needs us, what won't he dare sign when he's secured a second term and no longer does?
---
About David Codrea: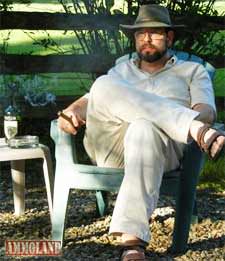 David Codrea is the winner of multiple journalist awards for investigating/defending the RKBA and a long-time gun owner rights advocate who defiantly challenges the folly of citizen disarmament. He blogs at "The War on Guns: Notes from the Resistance," is a regularly featured contributor to Firearms News, and posts on Twitter: @dcodrea and Facebook.