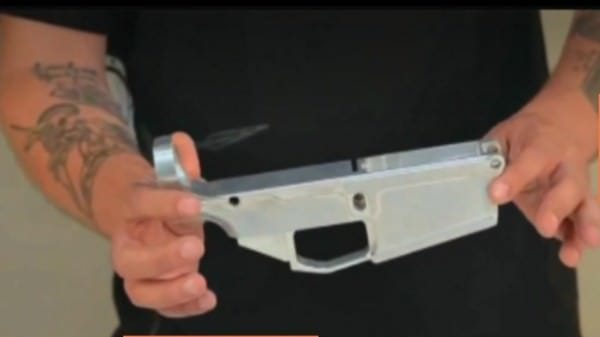 Syracuse, NY--(Ammoland.com)- New York Attorney General Letitia James sent a cease and desist order to 16 different websites selling 80% lower receivers and part kits.
"Your website offers unfinished lower receivers that require simple milling in order to manufacture unregistered and un-serialized assault weapons, despite the fact that such manufacture and possession are illegal in New York," the order reads. "Nor does your website adequately warn New York consumers that using these products in the manner for which they are intended and advertised could result in imprisonment and/or fines."
The anti-gun Attorney General is not releasing the names of the websites selling the parts for fear of driving traffic to their sites. One site targeted by James is 80-lower.com. AmmoLand was able to identify the site by a screenshot of the "No FFL Required" thumbnail included in the Attorney General's press release.
Buying and building an AR-15 from an 80% lower receiver is legal in New York state if it complies with the SAFE Act of 2013. The New York law bans semi-automatic rifles with detachable magazines and one additional listed of cosmetic features. The websites in question are not breaking any state or federal laws.
In a statement released to AmmoLand by80-lower.com verified that they were one of the sites targeted and said they were surprised by the order.
"We were taken aback by AG James' cease-and-desist order and the language used in it," the statement read. "Just as we've maintained since our founding, none of the products we sell are legally considered firearms by any state or federal law. More importantly, buying one of our products – in this case, an 80% lower receiver, officially called a receiver blank by the Bureau of Alcohol, Tobacco, and Firearms – and turning it into a firearm does not in any way constitute the making of an assault weapon."
Gun owners worry that if the Attorney General is successful in enforcing this cease and desist order that it will embolden her to pursue action against other sites. They fear she will target other sites selling non-regulated gun parts such as lower parts kits.
Gun rights activist see the AG's move as an attempt at more gun control. Gun Owners of America's Director of Communications Jordan Stein echoed this sentiment to AmmoLand.
"This is yet another gun control move that will be laughed at by criminals while trampling the rights of honest New Yorkers," Stein told AmmoLand. "Furthermore, it is quite concerning that a state Attorney General is bullying companies in this manner."
James insists that online retailers are unlawfully promoting the possession of illegal firearms because buyers can use the parts to assemble banned guns. She accuses the companies of fraudulent and deceptive trade practices. James does not address the fact that the parts can also be used to assemble firearms that are perfectly legal in New York.
According to the Democrat, these websites are not doing enough to warn citizens of New York State that certain modern sporting rifles are illegal under state law.
Under the order, the targeted companies have five days to show James why she should not take "an enforcement action" against their site. The Attorney General's office will be the sole decider if the companies have done enough not to be targeted.
If the targeted sites refuse to stop advertising and selling 80% lower receivers, the parts, and jigs within five days then the James will start fining the companies $5000 for each violation of the cease and desist order. It isn't clear what legal authority that the AG has to levy fines against companies for selling and advertising legal products.
The letter requires the companies to keep all record of sales of the items in question. The AG does not want the companies to delete any customer information including names, addresses, and purchase history. This stipulation is presumably to allow New York State to track down people in the state that have purchased items from the sites.
State lawmakers have introduced legislation to ban the sale 80% lowers and manufacturing of unserialized firearms. The New York legislature cannot vote on the bill until January 2020. The law is expected to pass.
Guns rights activist sees James's requirement that these companies keep all data of who purchased items as a way of preventing the companies from wiping the information from their servers before the new law is passed. New York State could then use that information to confiscate the firearms from people who purchased the parts.
The New York Attorney General's office did not respond to AmmoLand's request for comment.
---
About John Crump
John is a NRA instructor and a constitutional activist. He is the former CEO of Veritas Firearms, LLC and is the co-host of The Patriot News Podcast which can be found at www.blogtalkradio.com/patriotnews. John has written extensively on the patriot movement including 3%'ers, Oath Keepers, and Militias. In addition to the Patriot movement, John has written about firearms, interviewed people of all walks of life, and on the Constitution. John lives in Northern Virginia with his wife and sons and is currently working on a book on leftist deplatforming methods and can be followed on Twitter at @crumpyss, on Facebook at realjohncrump, or at www.crumpy.com.