U.S.A. –-(Ammoland.com)- I just met with Jim & Annette Manroe, the owners of SneakyHunter today and am excited about their new Boot Lamps. They are a unique invention. As an outdoor writer I get to test literally hundreds of products each year. 99.9% of the new products are a slight variation or improvement of an already existing one. Not so with SneakyHunter BootLamps. It is a new concept altogether.
Think of them as a headlamp for your feet. Why did I not think about that? Headlamps are great but if you hear a bear while hiking down the trail you have to focus the light on the bear and hopefully not stumble over a rock or go off the side of a mountain when you shift the focus of the light off the trail. The Boot Lamp will always be focused right on the trail in front of you.
But actually, the reason that Jim and Annette invented them was because he got tired of sneaking into his favorite hunting spot before daylight and spooking the elk & deer with his headlight. If he heard a noise and turned his head, the light hit them in the eyes and they spooked.
With the advent of Sneaky Hunter Bootlamps, you no longer have to worry about the above scenario's occurring. Especially since it has three sight light modes.
White light for walking.
Red light for when you're approaching your hunting spot. As we know, elk and deer can't see the red wavelength of light.
The violet light is used to track. The violet blood tracking light is custom made/exclusive and uses a unique wavelength of light in the violet spectrum.
Operating/Setting them up is easy. Both units operate off of 3-AAA batteries. I'd recommend putting the buckle on the outside of your foot. Your buckle is on the outside on your spurs isn't it? But if you can't bend over very good it may be easier for you to tighten them up if the buckle is on the inside. After deciding which route you go, you might even want to use a magic marker to write an "L" on one and an "R' on the other one so in the future you know which foot to put it on in case you're COD and absolutely have to have the buckle on which side you consider proper side. Normal people will probably care less!
Adjust the placement so that the Velcro strap is under your instep. There are two prongs on the front of the unit. Slip these under the boot strings. The unit is made so that it is mounted in the proper position and the light will shine where it is needed.
While backpacking and flyfishing I love to hit the evening hatch. Which means that there is a good chance that I may be down the river good ways hitting it at dark. I wear Chaco sandals for wading in and out of the water while fishing. But will they work on my Chacos? No problemo. I just tested it and the prongs fit under the strap and hold the unit tightly in place.
To turn on the unit there is a button on top. One-click turns on the white light, two clicks turns on the red light and three clicks turn on the violet light. But hold on, what about walking through grass in the morning, damp with dew? It has a hard foam compression pad on the lid that while it doesn't rate it as waterproof, it does rate as water-resistant.
They also make Hiker Bootlamps. These are different in that they offer white, red and green lights. Many hikers face depth perception issues when using a light source above the waist. This problem is eliminated by the Bootlamps since the light source is low to the ground. It also prevents blinding approaching hikers since it won't hit them in the eyes. Also, red and green light prevents eye strain during extended periods of time. The green light is an excellent hog hunting light because hogs cannot see green wavelengths of light.
Katy and I are headed over this weekend to Colorado to fly fish, ride horses and hike at the Wild Skies Flat Tops Cabin in NW Colorado. We got us a pair of Sneaky Hunter Boot Lamps just in time! Bring on the adventures.
MSRP $69.95 sneakyhunter.com.
SPECS:
Operates on 3 AAA batteries
Wt. with batteries 2.7 oz.
150 Lumens
70 hr. battery life
Hands free operation
---
About Tom Claycomb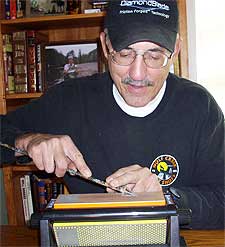 Tom Claycomb has been an avid hunter/fisherman throughout his life as well as an outdoors writer with outdoor columns in the magazine Hunt Alaska, Bass Pro Shops, Bowhunter.net and freelances for numerous magazines and newspapers. "To properly skin your animal, you will need a sharp knife. I have an e-article on Amazon Kindle titled Knife Sharpening for $.99 if you're having trouble."
Some of the links on this page are affiliate links, meaning at no additional cost to you, Ammoland will earn a commission if you click through and make a purchase.