Mike Searson reviews the Franklin Armory Title 1 rifle.
Minden, Nevada –-(Ammoland.com)- Franklin Armory has just unveiled a new Title 1 firearm called simply, the Title 1. According to the Company's Marketing Manager, Sun Neagle, "The Franklin Armory Title 1 was created for our friends behind enemy lines where the modern sporting rifle is neutered beyond comprehension".
This is a "full feature" firearm for the discriminating hunter or shooter who hails from the once Golden State. Although another color comes to mind whenever I see what liberal politicians have done to it.
Franklin Armory Title 1
The way the current laws read in California, there are only a few ways to own a semiautomatic rifle: Registered, featureless and of course, fixed magazine rifles.
These rifles will continue to have their place and each one has its own set of what some might call advantages but what we all can probably agree are disadvantages.
Registered "assault weapons" (their term, not mine): These are semiautomatic rifles defined as "assault weapons" under state law either by name or number of features. Named weapons include Uzi, Galil, etc. Whereas features are counted on a semiautomatic, centerfire rifle that can accept a detachable magazine and possess one feature such as:
A pistol grip that protrudes conspicuously beneath the action of the weapon.
A thumb-hole stock.
A folding or telescoping stock.
A grenade launcher or flare launcher.
A flash suppressor.
A forward pistol grip.
These are rifles similar to what we are allowed to own in Free America. The two disadvantages are: You had until January of 2000 to register them, which completely juices anyone who was under the age of 18 or born after that date and the fact that a creep like Gavin Newsom knows what you own and can send his jackbooted thugs to come take them after he eats enough beyond burgers and impossible tacos for his Beto-like moment in the sun.
Then, there are "Featureless Rifles". These are semiautomatic centerfire rifles that can accept a detachable magazine and have no pistol grip, folding stock, telescoping stock, folding stock, grenade launcher, flare launcher, flash suppressor, forward pistol grip or thumbhole stock. Basically, this is a Ruger Mini-14, Springfield M1A with a muzzle brake or a neutered AR with a Kydex fin.
Fixed magazine rifles are semiautomatic centerfire rifles that can have any of the evil features listed above, but the magazine must be fixed permanently in place. You either break the action open to load with stripper clips or use a tool to remove the magazine, reload it and lock it back into place.
The Franklin Armory Title 1 is none of these.
We are talking about a firearm that uses a standard push-button magazine release, ships with a ten-round detachable magazine and has a 1/2 x 28″ threaded barrel with an A2-style flash suppressor.
Shooters can use their higher capacity magazines if they so desire and for all intents and purposes could slap under and over grenade launchers on it to fire off all those surplus grenades being sold at Home Depot and Tractor Supply Co. (<-sarcasm)
This is not a straight-pull or bolt-action AR, nor does it use a clever bore design. It is quite simply a semiautomatic centerfire Title 1 firearm. The barrel is a 16″ lightweight contour with a 1:7″ RH twist and crowned with an A2 flash suppressor. Sporting a 15″ FST M-Lok rail and MagPul SL pistol grip, it has no stock and was never built with a stock attached.
Instead, the Franklin Armory Title 1 has a pistol-length buffer tube covered in a comfortable foam padding.
That's it. It has no stock and was never built with one. It will always be a firearm under the legal definition.
Until someone slaps a stock on it and turns it into a rifle. Don't do that.
At this time you might be thinking, "Yeah, yeah, yeah we get it, it's just a rifle without a stock."
However, it does not meet the legal definition of the term "rifle", according to 18 US Code 921:
The term "rifle" means a weapon designed or redesigned, made or remade, and intended to be fired from the shoulder and designed or redesigned and made or remade to use the energy of an explosive to fire only a single projectile through a rifled bore for each single pull of the trigger.
This falls into the territory of a "firearm", which is not used whatsoever in the language of the CA Assault Weapon Ban.
Back in the day, many shooters may remember firing an AR pistol without a brace. The most common technique was to form a cheek weld on the buffer tube or even shoulder that short tube to gain accuracy. You can use the Franklin Armory Title 1 in this manner or you could attach a brace to make shooting more comfortable, as a brace is not a stock. The vertical forend grip helps immensely in this regard.
Another technique would be to attach a bipod to the handguard to form a stable shooting platform. These methods of shooting would be perfectly legal with the Franklin Armory Title 1.
I tried a few combinations and found the results to be satisfying. Sure, I live in a free state and can possess just about anything I can afford, but I would not feel lacking if I lived in a "ban state" and a firearm like this was all I had at my disposal for a semi-automatic long gun. While my focus on writing this piece has mostly been on the California market, if you live in a state that restricts semiautomatic rifles, this may be a workaround for you as well.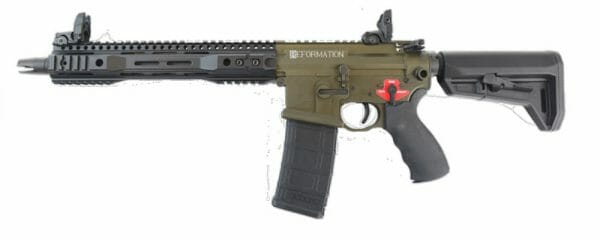 A lot of shooters say that Franklin Armory creates these firearms to prove a point to the ATF or in this case, the California Department of Justice.
This could not be further from the truth. The company has amicable relationships with both agencies and works with them to develop innovative solutions and bold new options for shooters throughout the world to overcome these barriers to freedom.
Franklin Armory Title 1 Firearm
Specifications
Manufacturer: Franklin Armory
Model: Title 1
Type: Firearm
Barrel Length and Type: 16" Lightweight contour
Rifling Twist: 1:7" Right hand
Overall Length: 32″
Handguard: 15" FST M-LOK
Bolt Carrier: Salt Bath Nitride coated
Trigger: Franklin Armory Single Stage (4 lbs)
Gas system: Midlength
Magazine: 10-round PMag (included)
Buffer tube: Pistol length
Pistol Grip: MagPul SL
Caliber: 5.56 NATO
MSRP:$944.99
Website: www.franklinarmory.com
---
About Mike Searson
Mike Searson's career as a shooter began as a Marine Rifleman at age 17. He has worked in the firearms industry his entire adult life as a Gunsmith, Ballistician, Consultant, Salesman, Author and was first certified to teach firearms safety in 1989.
Mike has written over 2000 articles for several magazines, websites and newsletters including Blade, RECOIL, OFF-GRID, Tactical Officer, SWAT, Tactical World, Gun Digest, Examiner.com and the US Concealed Carry Association as well as AmmoLand Shooting Sports News.
Home page: www.mikesearson.com
FB: www.facebook.com/mike.searson
TWITTER: www.twitter.com/mikesearson