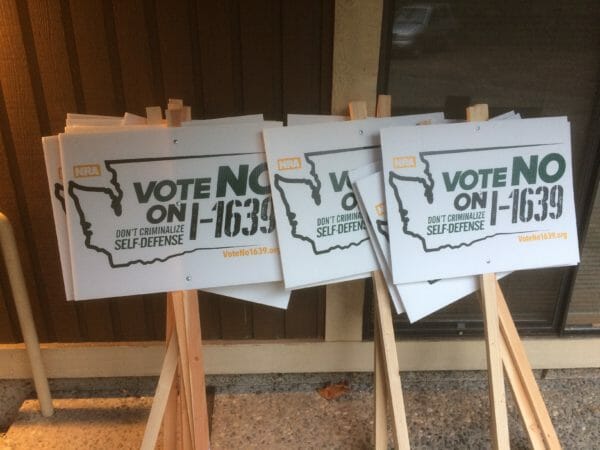 U.S.A. –-(Ammoland.com)- Frustration and fury are the two main ingredients of what can best be described as a grassroots revolt in Washington State with the launch of a counter initiative effort to repeal gun control Initiative 1639, the extremist measure passed by about 60 percent of Evergreen State voters last November.
This isn't a case of "sore losers" but legions of law-abiding private citizens who believe their right to bear arms under both the federal and state constitutions is being violated.
I-1639 has already resulted in one federal lawsuit by the Second Amendment Foundation and National Rifle Association, one declared candidacy for governor by a small town police chief, refusal by sheriff's in a majority of the state's 39 counties to enforce provisions of the measure, and the creation of a new crime, "Community Endangerment." This carries either gross misdemeanor or Class C felony penalties, depending upon the violation.
The initiative also, for the first time in history, defined a firearm that, according to Spokane County Sheriff Ozzie Knezovich, doesn't really exist: the "semiautomatic assault rifle." Under the language of I-1639, a "semiautomatic assault rifle" is "any rifle which utilizes a portion of the energy of a firing cartridge to extract the fired cartridge case and chamber the next round, and which requires a separate pull of the trigger to fire each cartridge." This translates to literally any self-loading rifle ever manufactured anywhere on the planet, according to critics.
There is no indication Sheriff Knezovich, or any of the other lawmen who opposed I-1639, is involved in this repeal effort.
Perhaps most famously, the initiative prohibits the purchase of a so-called "semiautomatic assault rifle" to anyone in the 18-20-year-old age group; young adults who can still join the military, get married, enter into contracts and vote. They just can't exercise their Second Amendment right to purchase or own one of these firearms.
It also created a registry requirement.
The initiative was opposed by nearly every major law enforcement organization in the state, a fact that was systematically downplayed, if not ignored, by the establishment media. It was opposed by some newspapers, endorsed by others.
And now I-1639 has spawned the effort to erase it. The office of anti-gun Attorney General Bob Ferguson, who has spent the last three years filing lawsuits against the Trump administration and who was an early endorser of I-1639, has given this new effort a number and ballot title.
The new measure is Initiative 1094, and the ballot title approved by Ferguson's says this:
"This measure would remove requirements for sale or delivery of semiautomatic assault rifles, remove certain age limitations for pistols and semiautomatic assault rifles, repeal crimes regarding firearm storage, and change other firearms-related laws."
The language applies to rimfire as well as centerfire rifles, so such popular sporting guns as the Ruger 10/22, Remington Nylon 66, Marlin Model 60 and Browning SA-22, the popular "gallery gun," all chambered for the .22 Long Rifle rimfire.
The ballot measure summary provided by Ferguson's office explains:
"This measure would remove increased background checks, firearm safety training requirements, and waiting periods for purchase or transfer of semiautomatic assault rifles; remove certain age limitations for pistols and semiautomatic assault rifles; repeal crimes related to firearm storage and firearm sales to unauthorized persons; modify requirements for private, non-dealer transfer of firearms; and repeal or amend other firearms-related laws, including requirements for recordkeeping, notification to law enforcement of firearms sales and denials, and background checks."
The campaign, according to activist John Valle, is so far being conducted via social media. Initiative forms were being printed, and Valle said copies will be available for downloading online for printing on an 11×17-inch sheet.
Valle told Ammoland News, "We have a network of volunteers. Every Patriot group is on board and I've got 23 gun shop owners in Eastern Washington who will put it in their shop."
He has spoken with gun show operators, and there is a growing legion of volunteer signature gatherers who plan to canvas the state.
Here's the downside. The goal of this unorganized grassroots movement is to collect 5,000 valid signatures every day in order to turn in 300,000 signatures to the Secretary of State's office.
The deadline for signature turn-in is Jan. 3, 2020 for the measure to appear on the November 2020 ballot, where it faces the likelihood of disappearing amid the presidential, congressional, gubernatorial and legislative election choices.
Among those involved in this effort is Nick Culp, son of Republic Police Chief Loren Culp. He's the lawman who famously went before the Republic City Council following the passage of I-1639 to declare he would not enforce it and ask that Republic become a "Second Amendment sanctuary." Sheriffs around the state followed suit, and more than a half-dozen county commissions also expressed opposition to enforcement.
The lawsuit, meanwhile, is lumbering forward. It is joined by gun shop owners in Spokane and Vancouver, and three private citizens in the affected age group. Currently, in the discovery phase, there may not be a hearing or trial until sometime next year.
Backers of the initiative are fired up, though they realize the challenge is formidable. I-1639 supporters spent about $5 million on their campaign. Valle, a Spokane-area resident, told Ammoland that he has no budget, and really can't start a PAC.
But what this effort has is devoted participants. Getting enough signatures to validate is only half the problem they face. If the measure does quality, supporters face a daunting campaign in which they will almost certainly be out-spent by the Seattle-based gun prohibition lobby, which is bankrolled by billionaires and wealthy elitists, living primarily in a handful of zip codes in and around the Seattle area.
Sheriff Knezovich theorized earlier this year that the reason this measure included a definition of "semiautomatic assault rifle" is to lay the groundwork for a future effort, either via legislation or another initiative, to ban such guns. Anti-gunners think in the long term, he indicated at the time.
---
About Dave Workman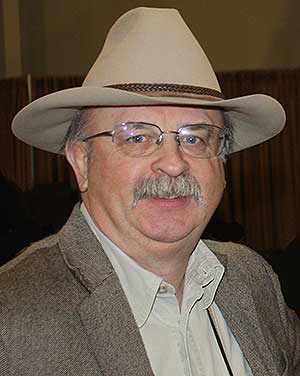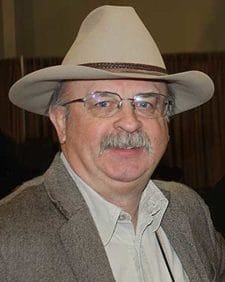 Dave Workman is a senior editor at TheGunMag.com and Liberty Park Press, author of multiple books on the Right to Keep & Bear Arms and formerly an NRA-certified firearms instructor.