U.S.A. –-(Ammoland.com)- I'm always interested in boning knives so when I heard that Buck had the Buck Paklite Boning Knife in their line-up I had to grab one and test it out. It's according to who you talk to as to what is the best-sized blade on a boning knife. Myself, I favor a 6" boning knife but in all actuality I like a worn-down 6" so really it's only about 5 1/2" long. So, if the truth be known I'm closer to favoring a 5" boning knife than I claim to be. But a lot of good boners like 5" boning knives. It's not a right or wrong, just a matter of preference. The Buck Paklite Boning Knife is 5 ¼" long so it should fall in the middle and make everyone happy.
The Buck Paklite Boning Knife has a nice upswept blade which you want in a boning knife design so you can properly bone out your wild game. It has thumb grooves on the spine and scattered around the tang and a finger guard so you can hold the knife firmly. It doesn't have a handle but this is because they designed it for backcountry use. No handle and slots in the tang make for a lightweight knife which if you hunt in the mountains, is a big deal.
The blade has basically no flex so it will not be a superb boning knife. But again, it is made for boning out your game in the backcountry. I think it would be an excellent knife to quarter out your big game so you can pack it out on horses. But, I've also boned out truckloads of meat with a stiff boning knife so of course you can bone out your whole animal with it. It's just that you can retrieve a little more meat with a semi-flex blade.
Here's the problem with 99% of the boning knives on the market. They don't come with a sheath. The Buck Paklite Boning Knife does come with a sheath and it is a nice heavy-duty nylon sheath with a Kydex insert sleeve to prevent it from sticking through the sheath in a fall or a horse wreck. Of course, if you want to fall hard enough then I'm sure that you can get stuck. It also has a snap that snaps over the finger guard to firmly hold the knife in the sheath.
The hilt has a hole in case you want to attach a lanyard. I think it'd be even better if it had some ¼" handles on each side. When using a boning knife, you use more motions and spend more time using than with any other knife doing any other task when processing your animal. But a handle would defeat the purpose of trying to make a super lightweight, stream lined knife so it is what it is.
So what is my verdict on the Buck Paklite Boning Knife? I think backcountry hunters will like it. Especially when cutting weight and bulk are of the utmost importance. And for an MSRP of only $18 it has to be the cheapest American made boning knife on the market (It did have a $30 price tag but I noticed on the Buck website that it has been marked down to $18).
SPECS:
BLADE SHAPE BONING
BLADE THICKNESS .150"
BLADE LENGTH 5 ¼"
WEIGHT 2.4 oz.
HANDLE 420 HC STEEL
CARRY SYSTEM SHEATH
ORIGIN MADE IN THE USA
---
About Tom Claycomb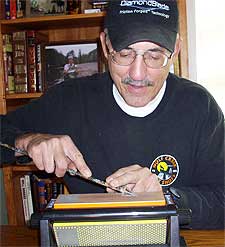 Tom Claycomb has been an avid hunter/fisherman throughout his life as well as an outdoors writer with outdoor columns in the magazine Hunt Alaska, Bass Pro Shops, Bowhunter.net, and freelances for numerous magazines and newspapers. "To properly skin your animal, you will need a sharp knife. I have an e-article on Amazon Kindle titled Knife Sharpening for $.99 if you're having trouble."