Disclosure: Some of the links below are affiliate links, meaning at no additional cost to you, Ammoland will earn a commission if you click through and make a purchase.
Tom puts the Irish Setter Vaprtrek LS Boots to the test.
Idaho – -(AmmoLand.com)- I hate to be a whiner but as I get older, I find myself cutting weight on my gear more and more to help lighten my load. This is especially important on my boots since you pick up your feet every step. A few decades ago I found some cheap, super lightweight boots but as much as I hunt/hike/fish/backpack etc. they were lucky to last one year. Then I discovered the Irish Setter VaprTrek boots.
Wow, they were super light and held up surprisingly well for being as light as they were. Since that discovery, I have owned a few pairs of VaprTrek's as have my wife and daughter. As I type, I am preparing for a deer hunt up in the Northeast.
The last two years that I have deer hunted there it has gotten semi-cold and snowy, so I wanted a pair of boots that had some insulation but not so much that I'd burn up while hunting in the mountains here in Idaho. I decided to go with the Irish Setter VaprTrek LS boots because they have 800g of PrimaLoft Gold Eco. That should be adequate insulation for sitting motionless in a blind but not too much so I'd be dying if hiking hard. In fact, they'd probably be about right for hiking in the snow.
utm_source=part&utm_medium=uol&utm_campaign=rss_world_img_bThe LS model has 9" tops so that will be good for hunting in 4-8" of snow and if it is deeper than I can slap on some gaiters and hit the deeper drifts. Nine-inch tops are adequate for deep drifts if you're wearing gaiters. With 6" tops it seems like you end up with as much snow on the inside as there is on the outside, even with gaiters. And everyone knows, there's nothing more enjoyable than snow packed in your boots while hunting.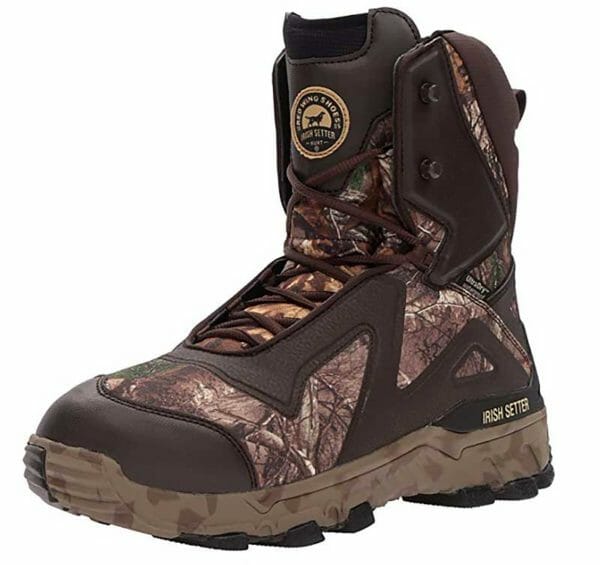 Normally on any tops over 7" I feel somewhat restricted. Or maybe I should say like I have irrigation pipes on my ankles but on VaprTreks due to the flexibility of them it feels almost like a heavy sock which bends with your movement instead of like a boot.
Another good feature is that they have aggressive tread, almost as good as on your hiking boots. So, they should function well as hunting boots in the mountains.
WATERPROOF
Yes-the Irish Setter VaprTrek LS boots are waterproof. Anymore I don't even consider buying a pair of boots if they aren't waterproof. There just aren't many hunts that I don't encounter heavy dews, rain, snow, cross a creek, wade through mud or all the above if I'm out for a week.
I haven't gotten to test these long enough yet but on my other Irish Setter boots, the Scent Ban doesn't seem to work. Not that it is the end of the world or a deal-breaker because I don't plan on using my hunting boots for a soup bowl anyway.
They have an MSRP of $159.99 and as is usual, we will close with the specs:
TECHNICAL SPECIFICATIONS – VAPRTREK™ LS STYLE 822
Upper Material Honeycomb Ripstop
Camouflage Realtree Xtra® Camouflage
Footbed Removable Comfort Cork EVA with Memory Foam, ScentBan™ Odor Inhibitor
Construction Cement
Shank Non-metallic
Waterproof UltraDry™ Waterproofing System
Insulation 800g PrimaLoft® Gold Eco
Outsole RPM-LS – Camo-Green
Last R100
Height 9-inch
Counter Heel-Molded
Lining Moisture Wicking Airmesh Nylon
VaprTrek LS boots are packed with the same high-tech features found in our popular VaprTrek family of boots. But with enhanced insulation options for cold-weather warmth and an updated outsole with rubber lugs for traction, you'll be comfortable and confident whatever Mother Nature throws at you.
---
About Tom Claycomb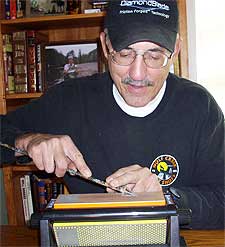 Tom Claycomb has been an avid hunter/fisherman throughout his life as well as an outdoors writer with outdoor columns in the magazine Hunt Alaska, Bass Pro Shops, Bowhunter.net and freelances for numerous magazines and newspapers. "To properly skin your animal, you will need a sharp knife. I have an e-article on Amazon Kindle titled Knife Sharpening #ad for $.99 if you're having trouble."