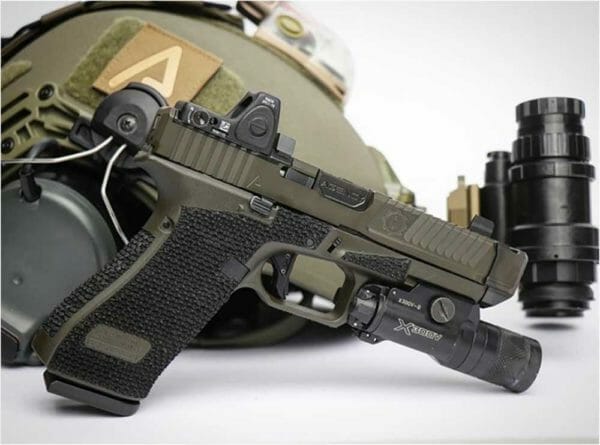 U.S.A. –-(Ammoland.com)- Agency Arms has teamed with Aaron Cowan and Sage Dynamics to design, develop, and release a new Sage series of signature pistols. The platform will be offered in two configurations: the V1 and V2, both based on the (user-supplied) Glock 45. Both boast features evolved from the patented Agency Arms NOC system.
V1 has enhanced G45 cocking serrations to add an improved grip and surface area, though it has been minimized to provide a more inexpensive model. The V2 features much more aggressive slide work. Both come with standard "Agency Armor" stipple for the best friction possible in a frame. Iron sights are available forward and/or rear, though some folks might suggest sticking with front sights only.
AOS (Agency Optic System) modular optic system standard.
User selects desired plate.
Optimized for 124gr and 124gr +P ammunition but will run 115gr as well.
Utilizes a unique comp available only on Sage edition guns.
Mid line barrel and comp coated in Diamond Like Carbon (DLC)
Proprietary guide rod coated in Rose Gold PVD
Aggressive stipple pattern
Gunsmith fitted trigger group
Initial offerings are in black DL (Diamond Like Coating), OD Green, and MC-Black.
Red/Black (Sage Dynamics) patch version also available.
Laser Engraved Sage Dynamics logo on top of slide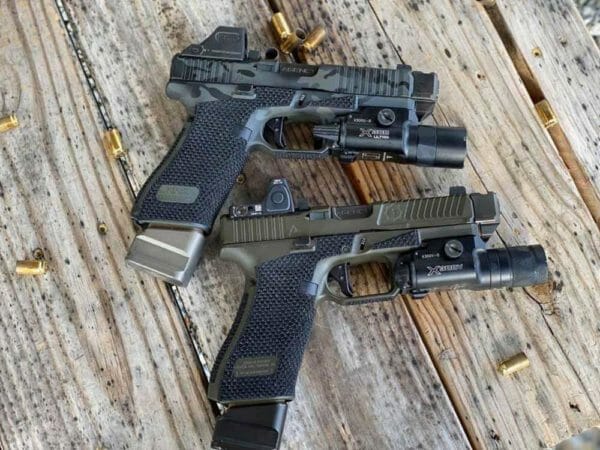 The V2 Pistol also features…
Enhanced "DNA Collectors" in the rear and aggressive front compound serrations.
Top serrations for improved front-of-slide manipulation.
Premier Midline barrel and comp coated in Diamond Like Carbon (DLC)
2-Tone Cerakote (on Cerakote models)
2-Tone stipple on OD Green and MultiCam black versions.
Laser engraved Sage Dynamics logo on left and right side.
Note that the steel compensator on both models is a proprietary barrel/comp/guide rod assembly that obviates the need for set-screws, shims, or thread locker.
Find the Aaron Cowan Sage Dynamics Signature Series pistol build services on the Agency Arms website.
For more about the pre-Agency base specs, check out:
Glock 45: https://us.glock.com/en/pistols/g45
---
About AGENCY ARMS
Agency Arms was created in January of 2015 and created by weapons operators themselves interested more in the functionality than the visual appeal. Agency Arms is a Veteran and LEO owned establishment that specializes in after market weapon modifications.