Jason Reid wants us to know what he thinks are the best Case Knives that you should own. Let us see if you agree or disagree?
U.S.A. –-(Ammoland.com)- It's hard to summarize the best Case knives in the brand's line up. The company is legendary because of its history, ethos, and performance built into each knife. Case Knives are a mainstay of those who get work done across the country, have a passion for the outdoors and those who love to collect knives.  As a company, Case Cultery has transcended time from its founding in the late 1800s. Here is my countdown for the best case knives form their 2020 knife blade lineup.
Camo Case Caliber Lightweight Synthetic XX-Changer
A part of the Camo Case Caliber Family, the XX-Changer is one of the most versatile knives in the line and honestly, it is one of my personal favorites and always has a place in my bags on each hunt.  The knife is a 5" folding, lockback blade and features exchangeable blades. For each part of the field processing process, there are four interchangeable blades. These blades include the clip blade, fillet/boning blade, the drop point blade, and the sawblade. The Handle is camo, lightweight, and synthetic to handle the messy jobs in the field. Check out the XX-Changer Here.
Case Knives Abalone Trapper
The Trapper family is fairly expansive and bring those loyal to the brand back to the days when they would follow their father and grandfathers afield hunting and doing chores. This is a  multi-purpose knife and synonymous with skinning small game. The Abalone knives are built with gleam with striking colors and are engravable. This is a jack knife with two full-length blades; a slender Clip and a long Spey. The Abalone Trapper features Case Tru-Sharp stainless steel. Case Tru-Sharp stainless steel is proprietary high-carbon steel that helps the blades hold an edge longer than conventional steel. The handle comes in seven different material types. Check out the Case Trapper knives here
Case Knives Winkler Recurve Utility No. 6
The Case Winkler Recurve Utility No. 6 is the second knife in the American Hero Series, a collaboration between W.R. Case & Sons Cutlery Company, Winkler Knives, and U.S. Navy SEAL veteran Harry Bologna.  This is an all-around performance knife with a full tang blade composed of heavy gauge 80CrV2 carbon steel. This knife gives you fantastic control from the ergonomically engineered canvas laminate handle. The knife measures 9 ½ inches long and weighing 12.3 ounces. The sheath is complete with reversible belt loop and dual lanyard holes for premium personal adjustability and also includes a Zippo Lighter. Check out the Case Winkler Recurve Utility No. 6
Case Knives Steak Knife Set – Smooth Natural Bone with Center Bolster
When You have company over for dinner and it's time for the fine cutlery, look no further than Case.   Case Knives are not just built for their hunting and outdoor product lines but in their culinary line. Check out their Steak Knife Set. This 4-Piece Steak Knife set features mirror polished, concave ground, Miracle-Edge serrated blades and smooth natural bone handle or wood handle with a centered nickel-silver bolster. These knives are constructed with Case Tru-Sharp stainless steel which keeps an edge longer and is corrosion resistant, perfect for fine dining. This four-piece knife set comes in a beautiful wood box. Each knife is 8.33 inches with 5-inch blades for slicing perfectly cooked pieces of wild steaks. Get Your Next Great Steak Knife Set Here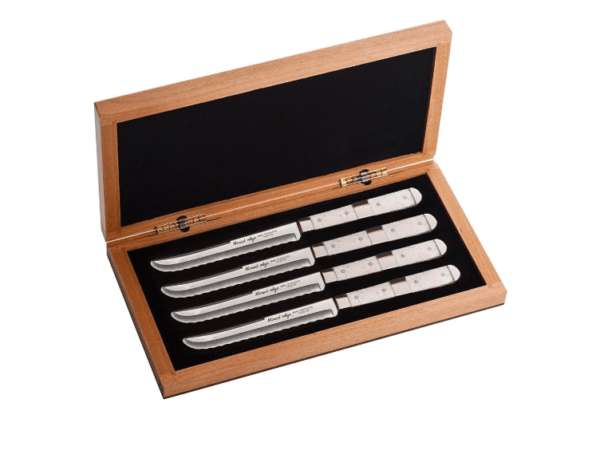 Case Knives Ducks Unlimited Gift Set Blue Bone Sod Buster Jr Blade
One of the best elements of Case Knives is its constant support of other Americana brands and causes. One of the top Case Knives is the Sod Buster JR Ducks Unlimited Gift set. The knife supports Ducks Unlimiteds their mission in protecting critical wetland habitat.  It has a Mirror-Polished Tru-Sharp surgical steel Skinner blade. A Standard jig Blue Bone handle with Ducks Unlimited shield and is a mere  3.63 inches closed and weighs only 2.2 ounces. It also comes in a great commemorative wooden case sporting the Ducks Unlimited Logo and the American flag. Check Out This Great Gift Idea 
The best knives are the ones you have that serve you in a functional way every single day. Case makes it easy to become a collector of their fine craftsmanship. So next time you need to think about a great gift or are gearing up for your next adventure check out Caseknive.com.