U.S.A. –-(Ammoland.com)- Primary Arms has made its name by succeeding on multiple fronts: as a varied gun parts website, as a designer of the highly successful ACSS reticle family, and as a manufacturer of firearms optics that are feature-heavy while staying very price-competitive.  Today we're checking out the PA SLx 3x, a 3×32 prismatic scope using the ACSS-CQB (.300 BLK/7.62×39) reticle.  This is another individual review, leading up to the group showdown in my "ACOG Killers?" series.
Let's check out the PA SLx 3's tech specs:
Battery Type:

CR2032 3V Lithium Coin

Battery Life: ~1900 hours

Click Value:

1/4 MOA

Eye Relief:

2.72 in – 2.92 in

Field View @ 100 yards:

31.50 ft

Illuminated: Yes, in red, with 11 brightness settings
Magnification:

3X

Mount:

M1913 Picatinny (ACOG mount compatible)

Reticle:

ACSS 7.62X39/300BLK CQB

Total Elevation Adjustment:

60 MOA

Total Windage Adjustment:

60 MOA

Turret Features:

Capped Turrets, Tool Adjustable

Weight:

16 Oz

Waterproof, fog resistant, and shockproof
Made in China
Lifetime Warranty
So the Primary Arms SLx 3 has the tech specs to match up with any of the other entries in the "ACOG Killers?" series.  At the heart of it all is the ACSS reticle used in this optic, in this case, it's the 7.62×39/300BLK variant.
The ACSS reticle is both simple and versatile.  There's not a ton of points cluttering up your view field, but there's lots of utility here if you know how to use it.  This acts as a big force multiplier over a red dot or a simple duplex reticle, giving you both quick, accurate shots and ranging information if you need it. This is one of my favorite reticles, and with good reason.  The large horseshoe centers the eye quickly, and the point of the chevron makes a great reference point for precise aiming.
Let's talk design of the rest of the optic.  The turret caps are individually retained via rubber loop straps, which is a nice way to get things done.  The turrets themselves are "tool adjustable", which means "find one spent brass" to most.  Conveniently, the turret caps are of the right shape to adjust the turrets themselves.  This pretty much entirely negates my distaste for tool-adjustable turrets.  I still prefer finger adjustable, but this passes the ease-of-use test.
The brightness knob is top-dead-center and big enough to grab in a hurry.  Happily, the knob adjusts both directions from "0", meaning you can go from 0-1-2 or the other way from 0-11-10.  The mount has a pair of thumbscrews to tighten it to your gun, and they've not come loose on me yet.  The whole body of the optic is solidly built.  At 16 ounces, it's closer to the lightest-in-class optic than it is to the heaviest.
As for the glass, if there's a problem there I haven't found it yet!  It's clear, with really good color transmission.  The reticle is brightly illuminated, with max power being plenty capable in nearly every non-Saharan environment.  Even when not illuminated, the etched reticle is very usable.  If your battery goes dead, you've still got a working optic.  Eye relief is normally a hindrance to prism optics, with the problem being magnified (pun intended) at higher magnifications.  At 3x, the PA SLx doesn't have much trouble here.  I found the eye box to be more forgiving than the 2.72″ – 2.92″ on the spec sheet led me to anticipate.
I've used this optic on a couple of different AR-pattern guns, chambered in .223 Wylde and .300 Blackout.  I've used it far more often on the latter, however, as the reticle is designed for 7.62×39/.300 Blk.  The bottom line is that my range trips were boringly predictable.  Getting zeroed?  No problem.  Holding zero?  As it should.  Spinning the turrets left and right, up and down then back to zero?  Still on target.  I really like being in the 3x-4x magnification range.  It's an aid to accuracy and target ID (deer antler?  branch?), but also low enough magnification that it's quick to pop up and get on target in a hurry.  Ready-ups using the Bindon Aiming Concept?  No problem here.
I know low power variable optics are all the rage these days, and they're a great option for many shooters with their versatility.  For me, the simplicity, durability and proven design of a fixed power prism optic are hard to beat.  It's the same viewfield every time, no pulling up expecting 8x only to remember you dialed it down to 2x.  It's straightforward, repeatable, and reliable.
Primary Arms has put out a really great take on the low-power magnification prismatic optic.  The SLx 3x covers all the bases and leaves no glaring weaknesses.  It might not have the sexiest look to it, but function beats form and the PA SLx 3x is a solid contender, even before we consider the price.  Looking at the PA website, the SLx 3x is currently running $289.99, which is a highly competitive number in the market.  Check it out!
---
Editor's Shopping Tip: If you think you want to pick up one of these at Primary Arms, click our in-article links (our link codes activate the free option) and look for the Free Anti-Reflection Device Drop Down box and be sure and tick the box so you get the FREE item. That is an extra $30.00 back in your pocket. Who loves you? PS: No promises on how long this freebie will last.

---
About Rex Nanorum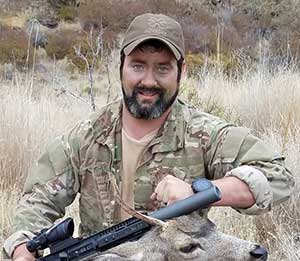 Rex Nanorum is an Alaskan Expatriate living in Oregon with his wife and kids. Growing up on commercial fishing vessels, he found his next adventure with the 2nd Bn, 75th Ranger Regt. After 5 tours to Afghanistan and Iraq, he adventured about the west coast becoming a commercial fisheries and salvage SCUBA diver, rated helicopter pilot instructor (CFII) and personal trainer, before becoming a gear reviewer and writer."
Check back to see how the Vortex Spitfire 3x compares to the Primary Arms SLx 3x and the other previously reviewed optics as they try to vie for market share against the Trijicon ACOG.
For previous entries leading to the "ACOG Killers?" finale, see:
Some of the links on this page are affiliate links, meaning at no additional cost to you, Ammoland will earn a commission if you click through and make a purchase.