By Katie Lange
USA – -(AmmoLand.com)- Army 1st Lt. Raymond Beaudoin made it through years of battle during World War II, just to be cut down within reach of its end. But the actions he took to save his platoon will always be remembered, and that's why he earned the Medal of Honor.
Beaudoin was born on July 15, 1918, in Holyoke, Massachusetts, where he grew up with seven siblings. Few details of his early life are available, but when he got older, he worked as a salesman and was a member of the Massachusetts National Guard.
About a year before the United States joined World War II, Beaudoin switched to active-duty Army and served with Company F of the 119th Infantry, 30th Infantry Division — one of the first divisions to expand the beachheads at Normandy, France, during the 1944 D-Day invasion.
On April 6, 1945, Beaudoin was leading a platoon over flat, open terrain on the way to Hamelin in northeast Germany when they were bombarded from three directions with a hail of gunfire. The Germans had them trapped.
Beaudoin had his men rotate into firing positions so they all had a chance to dig in. He encouraged them and gave out ammunition before settling into position closest to the enemy. He managed to keep steady fire on the Germans, killing six. His platoon was able to do serious damage to the rest of the enemy soldiers, who outnumbered them by far.
The situation grew more and more precarious, though. Three soldiers who had tried to gather more ammunition and find reinforcements were killed by sniper fire, all while the Germans were growing in numbers and preparing a counterattack. The platoon needed help to get out of there alive.
Beaudoin knew the only way to do so was to distract the enemy so a soldier could run through the line of fire to find help. Beaudoin spent the next harrowing moments crawling 80 yards over exposed ground to move closer to the enemy's most lethal sniper nest. He refused to quit, despite being fired at by eight rounds of bazooka fire that threw mud, stones and other debris over him. Rifle fire also came precariously close, ripping his uniform along the way.
About 10 yards from the enemy sniper's nest, Beaudoin stood up and charged. He got close enough to shoot and kill two of the snipers point-blank, and he took down a third who tried to stab him with a bayonet. A fourth man who tried to run away was shot down by one of Beaudoin's soldiers.
Beaudoin tried to continue his attack, but he was killed by machine-gun fire. He was 26.
His heroic effort made it possible for another soldier to break past the line of fire to get the help needed to save the unit. It also led to the defeat of the German forces.
One month later, the war ended.
Beaudoin was buried in Notre Dame Cemetery in South Hadley, Massachusetts. On Jan. 25, 1946, his family accepted the Medal of Honor on his behalf.
A memorial for Beaudoin and two other Medal of Honor recipients — Navy Chief Petty Officer John Mackenzie and Army Sgt. Joseph Muller — was unveiled at a park in Beaudoin's hometown in 2018.
---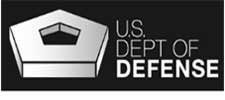 U.S. Department of Defense
The Department of Defense provides the military forces needed to deter war and ensure our nation's security. The foundational strength of the Department of Defense is the men and women who volunteer to serve our country and protect our freedoms. Visit www.defense.gov/ to learn more.