U.S.A. –-(Ammoland.com)- Guns are not the only thing I am into when it comes to things I collect. I am also into art. One of my favorite living artists is Owen York.
The reason why I like Owen's art is that it has a unique style. Firearms also appear in a lot of his artwork. That in itself doesn't mean that he is pro-gun. A lot of artists use firearms in their paintings. Usually, it is a generic-looking gun based on a 1911 or Beretta. Owen's art bucks this trend by using all sorts of accurately painted guns.
It made me wonder if he was "pro-gun" or just finding pictures of different firearms to paint. I decided to reach out and ask him his stance on guns and the Second Amendment. I was surprised to find out that the professionally trained artist wasn't just pro-gun, but he also runs a gun website called the Gun Industry Marketplace.
Owen is open about his unconditional support of the Second Amendment. I asked if he would talk to me for AmmoLand about being a well-known artist (predominately an anti-gun industry) and being pro-Second Amendment.
He agreed to speak with me not only for AmmoLand, but he also decided to come on my live stream where I interview people of the firearms community. These are those interviews.
John: How did you get into art?
Owen: I've been doing art my entire life, one way or the other. From drawing, painting, playing piano or saxophone, writing short stories, essays or poetry, to acting in TV, Radio, and Film. I have a lot of travels in The Arts. It is something I have always done. I finally settled down into just rolling along with being a painter in the late 2000s, which is what I was the most known for anyway.
John: How did you get into guns?
Owen: I started shooting as a kid, but I didn't get deep into firearms until I was about 30. I bought my first handgun simply because I thought it was a "good idea" to have one. And then you know the rest — it's a weirdly addicting hobby. You have one, then all of a sudden you have like 10. Then I started a hobby business in firearms, and then another business in firearms, and now run a full-time business in firearms. I've worked in the firearms industry for the last 5-1/2 years now, in addition to running my art studio.
John: Your art style is very unique. What style is your art?
Owen: My early art was mainly Impressionism. This a very loose style, with more focus on lights, darks, and color as opposed to details, as you may see in realistic art. Instead of college, I went to ultimately a trade school for art — the American Academy of Art in downtown Chicago. There I got a degree in Illustration. Illustration is usually very tight, controlled, or regimented in certain ways. So, my current style is sort of a mix of both. I still consider my style as impressionism, but I usually refer to it as modern impressionism. I am still focusing on the lights, darks, colors, etc., as opposed to making photorealistic art.
John: I am into art and know a lot of artists hide Easter Eggs in their art. Do you have any Easter Eggs that you use?
Owen: Yes, sometimes. Once in a while, I will hide "Greek" in my art. Greek is the alien you see in my art studio's logo. I've been writing and drawing about Greek since I was 11 years old, so he naturally became the logo for my studio. I even have that logo tattooed on my left arm. He's not in every painting, but once in a while, I throw him in there. Sometimes I mean to paint him in somewhere and then get so into the painting that I just forget. Then it's too late as I'm past a point of no return. Oh, well.
John: Being an artist and a Second Amendment advocate must be a hard-balancing act. Have you had any backlash from galleries once they find out about your stance on guns?
Owen: It can be depending on what you're trying to do. For years, I just had these two different careers at the same time — guns and art. I was already pretty well known as an artist, as I have been doing that for 20 years. As my reputation in the firearms industry increased, both of my careers just sort of merged. I guess it was inevitable.
I am really happy about the merging of the careers, though. I can be myself as an artist, do what I like, and paint and say what I believe in. I don't need to "walk the line" like you may have to do if you were a conservative in a generally liberal industry — like Hollywood, for example. Instead, I can just open my big mouth, and it's usually fine.
There was some backlash, but not much. There was some criticism of me or what I was doing, but honestly, not that much. This has been much more well-received than I thought it would be. I would say that mostly, I experience being shunned from any agent, consultant, or the gallery circuit. And in those cases, it's fine because I want to work with who I jive with. I don't want to work with a gallery that wouldn't want to work with me.
One example was a gallery I was checking out once. It appeared my work would fit in nicely with their portfolio of other artists. I was about to reach out to them until I saw that the following week, they were having some anti-gun art show. I thought, "Man, these guys are gonna hate me."
John: A lot of your art doesn't have to do with guns. I suspect some of your customers don't know about your love of firearms. What is their reaction when they find out about your stance on 2A issues?
Owen: True, not all of it is guns. I deal a lot in my imagination, of course, telling stories, portraying characters of my own invention. Quite a lot have been hired commissions or portraits. Again, so far, my firearms bent doesn't seem to have affected my client base. I know some have left my mailing list or social media, but oh well. I have found more have been in agreement with firearms more than anything. It seems firearms polarize less than politics, at least in the circles I am running around in.
With the announcement of some of the projects I'm working on, I'll be getting some updates done to the website and doing some rebranding. It's going to be even more obvious where I stand on guns, art, Constitutional rights, etc. If you follow me on social media, it's already pretty clear what I think. It's not hidden. I'm usually pretty loud.
John: You do use firearms in your art, but they aren't generic pistols. Is it important for you to show real pistols instead of the generic handguns that a lot of artists use?
Owen: Yes, totally. First of all, in any art I do, I'm a stickler when it comes to certain things, as a lot of artists are. No one else may notice it, but I would.
When it has come to firearms in the art, for sure, I want them to be accurately portrayed. Just like any other artist would use a "model" for a figure drawing or painting, I use actual firearms as my "models." It keeps it real and authentic. Plus, firearms enthusiasts would notice if you failed to do them correctly. For example, in one of my paintings called "Hashtag," one person complimented the trigger discipline. It was pretty funny. Trained firearms enthusiasts notice things like that. You've gotta be real.
John: Not only do you do art, but you run a site called the Gun Industry Marketplace. What is that site about?
Owen: The Gun Industry Marketplace is a marketing and advertising platform for the firearms industry I invented and started several years ago. Originally it was strictly for the industry but has since expanded to include Law Enforcement, government, as well as shooters and collectors. It's grown from a national audience to an international one and just keeps getting bigger and bigger. It's at least one of the largest of its type — top 3 maybe. For sure, it's the most functional and usable. It started as just products but has expanded to include services, a job board, a local market for locating FFLs, attorneys, gunsmiths, etc. We keep building it based on what is needed and wanted out there, so it is always evolving. We've helped a lot of companies to not only put their products, services, and brands on the map, but we've also helped them get sales, new accounts, press, and a lot more. It's a really cool business, and we get to help a lot of people in the industry. I always recommend that people read our Mission Statement on the website.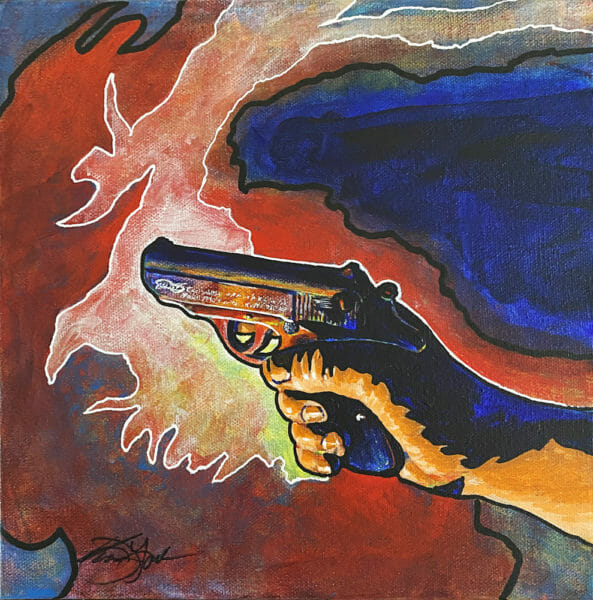 John: What made you start the Gun Industry Marketplace?
Owen: It was really an evolution. In an earlier career, I worked a lot in the Public Safety industry, as well as some Defense, which probably generated some of my interest in firearms. Later, I started a small media company for the firearms industry, which quickly evolved into a manufacturer's rep or master distributor, which we operated for years. That's where we earned our stripes in the trenches of the industry. Trump's election then resulted in the "Trump Slump" of our industry. So, we did our own market research and industry surveys of the entire supply chain of the industry, and the Gun Industry Marketplace was born. So, really the market told us what we should be doing, and we did it. And that's the Gun Industry Marketplace.
John: Anything else you what our readers to know about?
Owen: I have a few things in the pipeline. I have one new painting getting closer to being done, which as part of the art, has an AR-15 in it. Also, mentioned rebranding and website updates coming, which will coincide with the launch of some customized, high-end, designer firearms we're making. We're in stealth mode at the moment regarding the projects, but you'll be seeing Owen York Studios ART AND GUNS very soon. They're in progress right now. They'll be worthy of an artist's name on them and will be fully functional, quality firearms. I can't wait to present them. They're gonna be awesome.
---
About John Crump
John is a NRA instructor and a constitutional activist. He is the former CEO of Veritas Firearms, LLC, and is the co-host of The Patriot-News Podcast which can be found at www.blogtalkradio.com/patriotnews. John has written extensively on the patriot movement including 3%'ers, Oath Keepers, and Militias. In addition to the Patriot movement, John has written about firearms, interviewed people of all walks of life, and on the Constitution. John lives in Northern Virginia with his wife and sons and is currently working on a book on leftist deplatforming methods and can be followed on Twitter at @crumpyss, on Facebook at realjohncrump, or at www.crumpy.com.