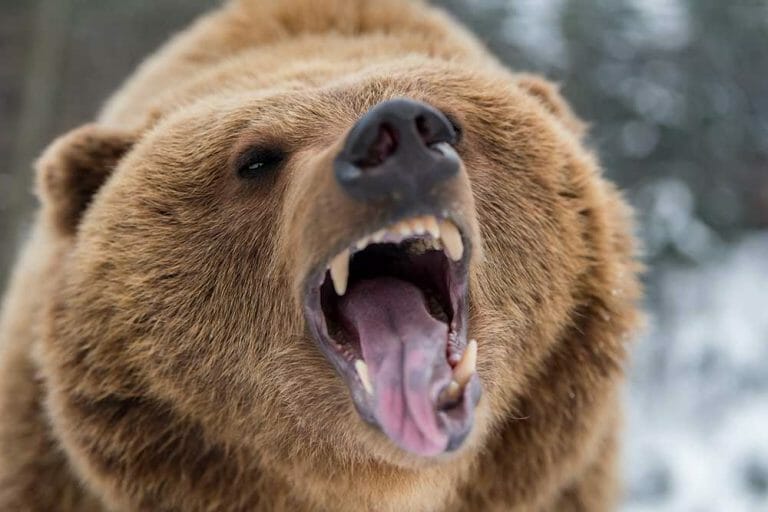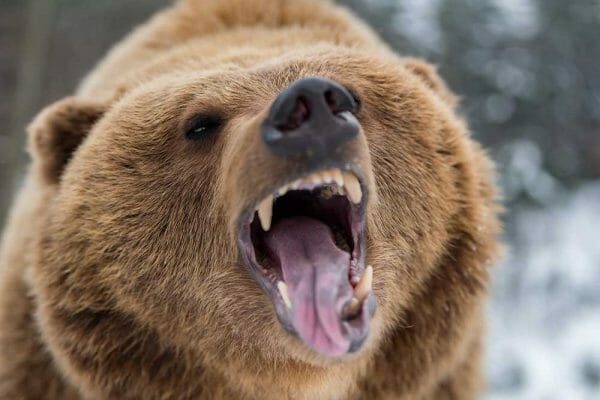 U.S.A. –-(AmmoLand.com)-– This article is part of a continuing series of defensive bear shootings discovered through a Freedom of Information Act request by AmmoLand. It appears these events were not reported in other media.
On September 13, 2011, two bowhunters were hunting for elk in a wild part of Wyoming, on the boundary of the Shoshone National Forest and the Bridger Teton National Forest. The location was on the Continental Divide between the Salt Creek and the South Fork of the Fish Creek drainages, about an hour north of DuNoir Junction, southwest of Dubois, Wyoming, near the boundary of Fremont County and Sublette County, at an elevation of about 9442 feet, according to the map contour lines. It is in the middle of the west edge of Wyoming.
The weather was cool in the morning and warm and dry in the afternoon. Temperatures varied from 35 to 70 degrees F in nearby Big Piney-Mableton at about 6,000-foot elevation.
Two hunters were involved. Their identity is deleted in the FOIA document. They will be referred to as Hunter One and Hunter Two. Hunter One had a holstered .38 Special revolver as well as his archery equipment.
At about 10:00 a.m., the two hunters were crossing a large area of downed timber, with numerous blowdowns. This type of terrain is very difficult to traverse, because you are constantly climbing up, over, and down large tree trunks. The pictures give an indication of the complexity. It is not a walk in the park.
Hunter One was "about to cross a big piece of downed timber" when he saw a large bear jump up and toward him. He ran up a downed tree, and the bear was "spooked" and ran north into the timber. Hunter One waited until the bear was out of sight; then he used his cow call to communicate with Hunter Two, who was 30-50 yards away.
Hunter Two came closer when he saw Hunter One up on the downed tree trunk. They communicated and decided to leave the area because of the danger of the grizzly bear.
The two hunters had traversed about 300 yards upslope to return to their vehicle. They heard a crash. Believing it might be an elk, they saw two bears running at them. Hunter One was climbing another downed tree trunk when he saw the larger bear change direction and attack Hunter Two.
Hunter Two had seen Hunter One darting up the downed timber, and the bears coming at them. Hunter Two ran to climb a downed tree near Hunter One, tossing his bow to facilitate his ascent. Hunter Two slipped and landed on his back, looking up to see the larger bear looming over him. He brought up his foot to kick at the bear, and the bear grabbed his right ankle. He yelled at Hunter One to shoot the bear!
At this point, Hunter One had drawn his .38 revolver. He fired two shots as the bear attacked Hunter two. The bear disengaged from Hunter Two, fell down, and started to come up toward Hunter One. Hunter One fired another shot at the bear, and it went down for good. Hunter One reported all shots were fired from six feet or less.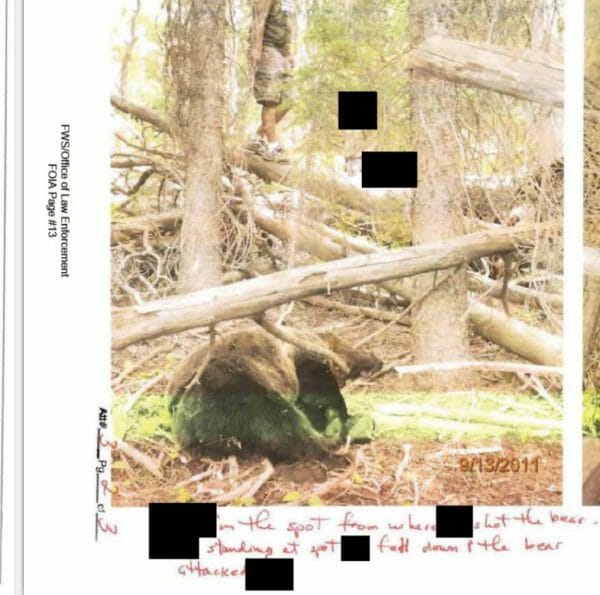 The entire sequence of shots probably took less than five seconds.
Hunter Two got up and checked himself. Because of his heavy leather boot, and the quick action of Hunter One, the bear's teeth had only punctured his skin at one spot. After checking Hunter Two, Hunter One reloaded his revolver.
The two hunters finished returning to their truck. Once there, they hooked up their travel trailer and drove to Dubois, where they contacted Wyoming Fish and Game. Wyoming Fish and Game received the information and were able to meet with the hunters at DuNoir Junction about three p.m. From there they went to the shooting site and did a field necropsy on the bear.
The Wyoming F&G personnel recovered three fired .38 Special cases at the site. They recovered three .38 caliber bullets. None had exited the bear. From the picture, they appear to be 150-160 grain jacketed bullets. Two of the bullets were relatively undamaged.
One bullet was significantly deformed, apparently from hitting the bear's spine. This was probably the killing shot. All bullets had entered the bear from the front half.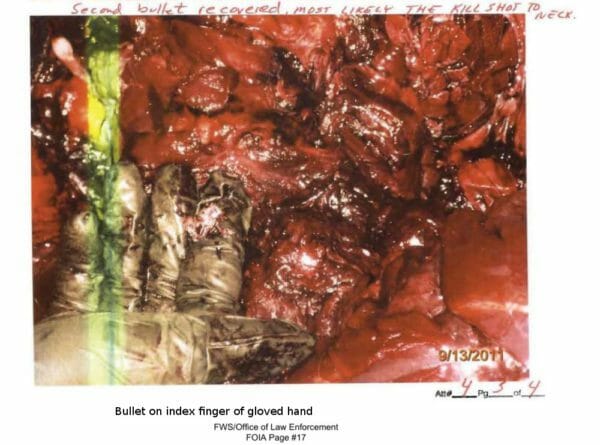 Hunter One said he was "shaking so bad" and "was so scared". He was not shaking or scared bad enough to keep from scoring three solid hits with three shots, killing the attacking bear and stopping the attack on Hunter Two. The shaking reaction is a common occurrence following an adrenaline dump when involved in a deadly fight.
The investigators looked for a yearling cub; they did not see one, but all reported hearing a bear "woof" and "pop" its jaws.
The hunters' verbal statements, the physical evidence, and their written statements were all consistent.
The bear was tattooed with the number 497. It had been trapped as part of management action in 2005, and again in 2008, for depredating on cattle, not far from where the attack and defensive shooting took place.
On January 9, 2012, the United States Attorney for the District of Wyoming determined the case was clearly self defense, and declined to prosecute for the illegal take of a grizzly bear.
---
About Dean Weingarten:
Dean Weingarten has been a peace officer, a military officer, was on the University of Wisconsin Pistol Team for four years, and was first certified to teach firearms safety in 1973. He taught the Arizona concealed carry course for fifteen years until the goal of Constitutional Carry was attained. He has degrees in meteorology and mining engineering, and retired from the Department of Defense after a 30 year career in Army Research, Development, Testing, and Evaluation.