ISSC And Austrian Sporting Arms Show a M-22 Pistol At SHOT Show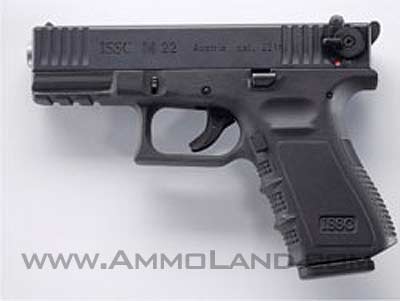 Orlando, FL – Austrian Gun-maker ISSC and US importer Austrian Sporting Arms will be presenting the new M-22 Pistol at the 2009 Shot Show. The gun, designed by Austrian designer Wolfram Kriegleder, will be displayed at the Camfour Distributor booth. Kriegleder, who designed Walther's P-22 pistol, will be at the Camfour booth to demonstrate the new gun and answer questions from show attendees.
"I am very happy to bring a new pistol to American shooters, " says Kriegleder, "especially a gun that was developed in response to what American shooters told me they wanted to see in a target and shooting firearm."
The M-22 is chambered for 22LR caliber and will be available in both 3.5-inch and 5-inch barrel versions. Both models will come with adjustable rear sights, match barrel, contoured grip and multiple safeties. Magazine capacity for both guns is 10 rounds.
The M-22 is imported by Austrian Sporting Arms, Ware, MA, and will be available for commercial distribution Spring, 2009. MSRP for the basic model will be approx. $400 and the gun will be finished both in all-black or black frame with nickel slide. More information is available from Austrian Sporting Arms.
About:
For more than six centuries austria has been home to some of the world's greatest gun makers, a proud tradition embodied in the unique firearms now being produced by ISSC. Austrian sporting arms is proud to be the sole importer of ISSC firearms, beginning with the revolutionary m-22 pistol, designed to meet the needs and desires of American shooters. Uses the newest technologies to produce the most unique and innovative guns for today's shooters.