Ruger M77 Hawkeye Tactical Rifles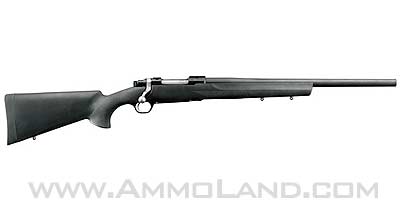 Sturm, Ruger & Company – -(AmmoLand.com)- Is proud to announce the introduction of new Ruger® M77® Hawkeye® Tactical rifles. These bolt-action rifles, available in the short action calibers .223 Rem., .243 Win., and .308 Win., feature Hogue® OverMolded™ synthetic stocks, alloy steel barrels, and receivers in the Hawkeye Matte Blue finish.
The Ruger 2-stage target trigger and the 20″ heavy barrel deliver the accuracy required in tactical applications. OverMolding, a patented process, provides the ultimate in a comfortable, non-slip, cobblestone texture that is durable and extremely quiet. The state-of-the-art elastomer material used on Hogue stocks will not harden with age and is virtually impervious to all oils and solvents found around firearms, providing years of dependable service. The stock also comes equipped with standard sling swivel studs and a highly effective recoil pad.
Like all Ruger M77 Hawkeye rifles, the Tactical models have Mauser-type controlled feeding and a powerful claw extractor, 3-position safety, hammer forged steel barrels and Ruger patented scope rings (provided at no charge) that install on the integral mounts and never shoot loose. The steel floorplate, bearing the distinctive Ruger logo, provides easy unloading and eliminates accidental "dumping" of ammunition.
The rifles weigh 8.75 pounds and are shipped with a Harris bi-pod. Magazine capacity of the Ruger M77 Hawkeye Tactical rifles is 4 rounds in all calibers and the overall length is 40 inches.
About Sturm Ruger
Sturm, Ruger was founded in 1949 and is one of the nation's leading manufacturers of high-quality firearms for the commercial sporting market. Sturm, Ruger is headquartered in Southport, CT, with manufacturing facilities located in Newport, NH and Prescott, AZ.
Sturm, Ruger & Co., Inc. "Arms Makers for Responsible Citizens"®
© 2009 STURM, RUGER & CO., INC.