Brownells New Website Sneak Peak
Be the first to demo the new Brownells Shooters Super-Site. Click the image below to watch.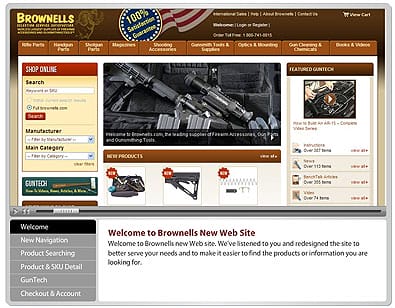 Brownells.com – -(AmmoLand.com)- Want to take a sneak peak of Brownells new website launching in June?
The Gunsmiths at Brownell's have created a short flash tutorial showing you some of the cool enhancements they are rolling out to make your gun parts purchases even easier.
The website will feature easier searching, gunsmithing how to videos and an expanded AR15 video instructions section as just some of the cool new gadgets.
Be the first to watch it now before Brownells goes live with their new Brownells Shooters Super-Site.
About:
Brownells is the world's largest supplier of firearm parts, gunsmithing tools, reloading equipment and accessories. Stocking more than 30,000 items, the company supplies armorers, gunsmiths, and shooters worldwide. All of their products are backed by a 100% satisfaction, unconditional, lifetime guarantee. For more information, or to place an order, call 800-741-0015 or visit Brownells.com