Brownells.com Gun Parts Opens Their New Website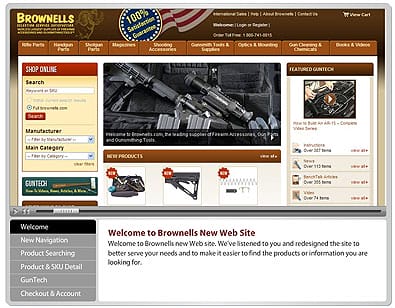 Brownells.com – -(AmmoLand.com)- Is a shooters super-site for gunsmiths and fans of firearms.
The new Brownells website features gun parts, firearm accessories, gunsmithing tools and shooting supplies, but that is not all.
They have added an improved search engine, more products and more videos and how to manuals. Not to mention all the cool features on the other Brownell's site HowtoBuildanAR15.com
More than three generations ago Bob Brownell founded Brownells.com on three words:
Selection
Service
Satisfaction.
More than seventy years later Brownells strong foundation still rests upon those words (read about our history).
For over 70 years, Brownells has been providing quality Gunsmithing tools, gun parts and service to the firearms industry. For all but two of those years, there has been a consistent brand image, the oblong horizontal shape of our catalog and the graphical design of our Brownells logo.
For all of those years, these two uniquely, identifiable products have stood for our promise of service, selection and satisfaction.
Take soem time to check out all the cool features packed into the Brownells New Website.
About:
Brownells is the world's largest supplier of firearm parts, gunsmithing tools, reloading equipment and accessories. Stocking more than 30,000 items, the company supplies armorers, gunsmiths, and shooters worldwide. All of their products are backed by a 100% satisfaction, unconditional, lifetime guarantee. For more information, or to place an order, call 800-741-0015 or visit Brownells.com