Vincent Hancock Captures Skeet World Championship Title, Skeet Men Claim Team Gold; Junior Men Earn Silver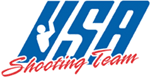 COLORADO SPRINGS, Colo. – -(AmmoLand.com)- The 2009 ISSF Shotgun World Championships came to a close in Maribor, Slovenia today as 2008 Olympic gold medalist Vincent Hancock (Eatonton, Ga.) won his second World Championship title in the Men's Skeet event. Hancock, Shawn Dulohery and Frank Thompson also took home the gold in the team competition and set a new World Record, while the junior men's team of BJ Blanchard, Jon Michael McGrath and Chris Haver grabbed the silver.
Exactly one year after winning the Olympic gold in Beijing, U.S. Army Marksmanship Unit (USAMU) Hancock took home the World Championship gold shooting a near perfect score. Hancock, who is also the 2005 Shotgun World Champion, World Record holder and 2007 bronze medalist in Men's Skeet, only missed one target in the qualification, shooting 124 out of 125 targets. Hancock entered the final in first place and shot a perfect 25 in the final to finish in the top spot with 149 out of 150 targets.
Reigning World Champion George Achilleos of Cyprus and Italy's Ennio Falco, the 1996 Olympic gold medalist, also both shot a perfect score of 25 targets in the final, ending in the second and third spots with 148 and 147 targets respectively.
Hancock's USAMU teammate and 2004 Olympian Shawn Dulohery (Lee's Summit, Mo.) was tied at 122 targets with four other shooters at the end of the qualification and entered the final in third place after a shoot-off. In the final, Dulohery, the 2001 World Champion, shot 24 targets to end up one target out of medal contention in fourth place with 146 total hits. Frank Thompson (Alliance, Neb.) finished in 18th place with 120 targets.
Hancock, Dulohery and Thompson shot their way to a gold medal in the team event, hitting 366 out of 375 targets, setting a new World Record that broke the previous 365 target record set by the Italian team at the 2006 ISSF World Shooting Championships in Zagreb. The team from Finland took the silver with 361 targets and Denmark earned the bronze, also with 361 targets.
Blanchard (Vidor, Texas), McGrath (Tulsa, Okla.) and Haver (Clinton, Mich.) captured the silver in the Junior Men's Skeet team competition after shooting a combined score of 349 targets. The Czech Republic team won the gold with 353 total hits and the team from Sweden took home the bronze with 348 hits.
Blanchard, who is the reigning World Championship bronze medalist in the Junior Men's Skeet event, finished the highest individually for the U.S. Junior Skeet Men today firing 119 targets and ending up in fifth place. McGrath finished in 11th place with 116 targets and Haver took 18th place with 114 hits.
Czech Republic's Milos Slavicek won today's junior competition with a total score of 122 hits.
Marcus Svensson of Sweden finished in second place with a total score of 121+4 hits after a shoot-off with Italy's Angelo Moscariello.
Approximately 600 shooters from 70 countries competed at the 2009 ISSF Shotgun World Championships in Maribor, Slovenia August 7-16. Thirty shooters, including 15 juniors, represented the U.S. in Maribor, taking home a total of 10 medals (three individual, seven team).
For a complete results, news, photos and video highlights of the 2009 Shotgun World Championships, please visit www.issf-sports.org.
About:
Winchester Ammunition is a Proud Sponsor of the USA Shooting Shotgun Team:
Winchester® Ammunition has been the exclusive ammunition sponsor and supplier of the USA Shooting Shotgun Team since 1999. Members of the 2008 shotgun team brought home four medals from Beijing using Winchester AA International Target loads. Winchester is an industry leader in advancing and supporting conservation, hunter education and our country's proud shooting sports heritage. For more information about Winchester and its complete line of products, visit www.winchester.com.