Firearms and Ammunition Excise Tax Collection Up 29%
Taxes on ammunition outpaces long guns and handguns reaching $48.89 million.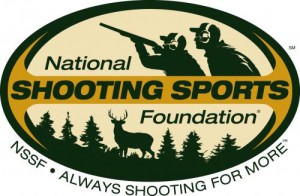 Washington, DC –-(AmmoLand.com)- According to the most recent Firearms and Ammunition Excise Tax Collection Report, released by the Department of the Treasury, firearm and ammunition manufacturers report excise tax obligations to be more than $115.8 million in the third calendar quarter of 2009, up 29 percent over the same time period reported in 2008.
The increase follows a 52 percent increase in excise tax obligations from the previous quarter (2Q, 2009) and more than a year of record-high FBI background checks for firearm purchasers — another strong indicator of firearm sales.
The report, which covers the time period of July 1 through Sept. 30, shows that $29.85 million was due in taxes for pistols and revolvers, $37.09 million for long guns and $48.89 million for ammunition.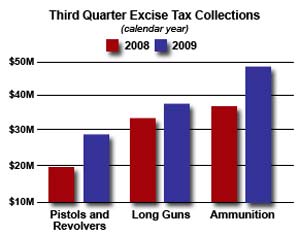 Compared to the same quarter in 2008, collections were up 50.2 percent for handguns, 33.4 percent for ammunition and 11.5 percent for long guns.
Encourage support for excise tax reform legislation:
It is important that members of the firearms and ammunition industry urge their senators and representatives to support S 632 and HR 510 — pro-conservation, pro-business, bipartisan legislation to bring equity to the excise tax payment schedule.
Learn more through NSSF's Government Relations Web page.
About NSSF
The National Shooting Sports Foundation is the trade association for the firearms industry. Its mission is to promote, protect and preserve hunting and the shooting sports. Formed in 1961, NSSF has a membership of more than 5,000 manufacturers, distributors, firearms retailers, shooting ranges, sportsmen's organizations and publishers. For more information, log on to www.nssf.org.