Winchester Ammunition Receives Big Rock Sports Hunting / Shooting Vendor Of The Year Award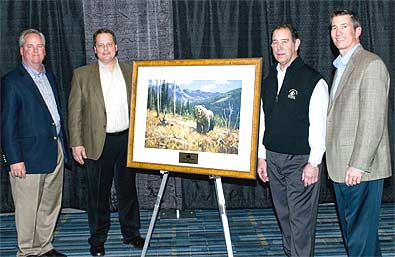 Raleigh, North Carolina –-(AmmoLand.com)- Big Rock Sports recently announced Winchester® Ammunition as its 2009 Hunting/Shooting Vendor of the Year at the first annual Big Rock East distributor show in Raleigh, North Carolina.
Winchester received the award for its support and commitment to the wholesale distribution network and for working with Big Rock Sports at all levels of their organization including sales, merchandising and marketing.
"At Big Rock Sports we value our partnerships with companies like Winchester Ammunition; they earned the Hunting/Shooting Vendor of the Year Award with excellent service and support for our organization," said Ed Small, Big Rock Sports' President and CEO.
Big Rock Sports, located in Newport, North Carolina, is one of the largest wholesalers in the country for hunting, fishing, camping and outdoor lifestyle merchandise and each January holds two of the largest distributor shows in the country, Big Rock West in Las Vegas and Big Rock East in Raleigh, N.C.
"The Big Rock Sports Hunting/Shooting Vendor of the Year Award is quite an honor for Winchester. Our team works very hard and to be recognized as an industry leader is very important to our company," said Brett Flaugher, Vice President of Sales and Marketing for Winchester Ammunition. "The relationship Winchester has with Big Rock Sports is essential to our success; they bring tremendous value and service to the independent dealer base along with unique marketing concepts."
Today, Big Rock Sports services more than 15,000 fishing, ice fishing, hunting, shooting, camping and marine retailers in all 50 states, the Caribbean and nine foreign countries.
For more information about Winchester and its complete line of products, visit www.winchester.com.
To learn more about Big Rock Sports, visit www.awrsports.com.
Winchester Ammunition is proud to be a leader in conservation
NILO Farms®, established by John M. Olin in 1952, is Winchester's prestigious hunting preserve providing guests with quality hunting on more than 640 acres of natural habitat. As one of the finest hunting and shooting facilities in the country, NILO Farms represents the best in game management and safety. Many of the land management practices developed at NILO Farms have proven to be an example for other waterfowl and upland game bird preserves to follow. For more information about NILO Farms visit www.nilofarms.com.