FNH Midwest Three Gun Championship Winners
FNH USA Midwest 3-Gun offers unique shooting experience for both pros and amateurs.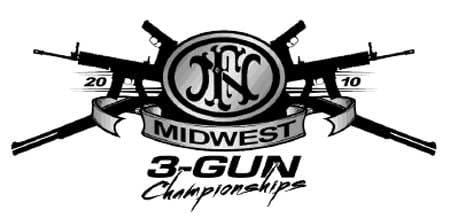 McLean, Va. –-(Ammoland.com)- McLean, Va. –-(Ammoland.com)- The 2010 Midwest 3-Gun Championships in Fayette, Mo. began with over 200 shooters facing muddy challenges and ended with the sun shining and Robert Romero's smiling acceptance of a $5,000 check presented by FNH USA in the FNH USA 3-Gun Nation Shoot-Off.
The match is one of the five events (Superstition Mountain, Blue Ridge Mountain 3-Gun, FNH USA Midwest 3-Gun, MGM IronMan, and Rocky Mountain) that determine the final roster of shooters who will compete in the exciting culmination of the FNH USA 3-Gun Nation tour presented by SureFire.
The Championship will be held September 13, 2010 at the USPSA Nationals in Boulder City, Nev. The winner of the Championship will walk away with a $25,000 grand prize (provided by Leupold).
Those placing 2nd and 3rd will also receive cash prizes. Look for the FNH USA 3-Gun Nation tour televised on Versus beginning July 26, 2010.
Individual and team results of this year's event are as follows:

Event
1st
2nd
3rd

Open Class

Jerry Miculek

Tommy Thacker

Jojo Vidanes

Heavy Metal

Patrick Kelley

Maurice Griffin

Jomar Villamor

Tactical Optics

Taran Butler

Robert Romero

Glenn Shelby

Tactical Optics Heavy Rifle

Barry Dueck

Dwight Stearns

Benny Hill

Tactical Iron

Michael Pinto

Jay Schmitt

Javier Martinez

Team Event

Team MGM:

B.J. Norris

Travis Gibson

Patrick Kelley

Team SWS

Erik Lund

Glenn S Shelby

Ty Gentry

Winners Team

Dianna Liedorff

Raqlin Kelly

Doug Hartley

FNH USA Three-Gun Nation

Shoot-Off

Robert Romero
Second place winner in the Open Class, Tommy Thacker and Dianna Liedorff -– whose team placed 3rd in the Team event – are both members of the FNH USA Shooting Team. Another team member, Larry Houck, scored Match high overall for law enforcement.
Three-gun shooting includes competition with a handgun, shotgun, and rifle across several stages of fire with different and challenging obstacles and moving targets. For complete stats, visit www.midwest3gun.com. For more information on the FNH USA 3-Gun Nation Shoot-Off, visit www.3gunnation.com.
About:
FNH USA is the sales and marketing arm of FN Herstal, S.A., Belgium. Its corporate mission is to expand its global leadership position in defense, law enforcement and commercial markets by delivering superior products and the finest in training and logistical support. Visit www.fnhusa.com to view the entire line of FNH USA products and services. FNH USA, P.O. Box 697, McLean, VA, 22101, U.S.A.