50th World Shooting Championships Munich, Germany: Day 1 Report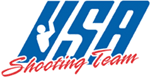 MUNICH, GERMANY –-(Ammoland.com)- Women's Junior Trap put America on the podium–twice, that is. First, Rachael Heiden (Clinton, Mich.) stepped up to the line to battle for the bronze medal with Zhu Jingyu of China.
The two were tied at 68 targets and it took Heiden, your Women's National Champion in Trap at both the open and Junior Olympic level, one target to douse Jingyu's hopes of a medal. Next up, young American Miranda Wilder (Diana, Texas) and Australia's Catherine Skinner, tied at 69 targets, remained neck and neck for nine shoot-off birds.
Skinner stepped up to the fifth post and fired a disappointing miss on a left climbing target. A good showing of American fans, some even superstitious, anxiously awaited Wilder's opportunity. Taking her time preparing, Wilder (pictured above with a fierce look) stepped up to the line and calmly broke the target as if a World Championship title was not on the line.
She was greeted by a line of well-wishing and hugging American teammates and officials. The third American junior shotgunner, Ashley Carroll (Solvang, Calif.), finished 25th.
Shortly before Wilder won her world title, the USA was represented in the Men's 10m Air Rifle final by Matt Emmons. The crowd in the final hall gasped as Matt Emmons (Browns Mills, N.J.) shot a disappointing 8.4 point tenth shot. Emmons entered the Men's 10m Air Rifle final in sixth place with a match score of 597 points and scored a decent final of 101.5; yet, his tenth shot moved him from second place to seventh–just one place shy of a 2012 Olympic quota spot. Other finishers include SPC Matt Rawlings (Wharton, Texas) in 20th place and Jonathan Hall (Carrollton, Ga.) in 68th.
Corey Cogdell (Eagle River, Ak.) caught a rough break as she missed the finals by one bird. Tied with Maria Volkova of Russia, Cogdell finished in eighth place out of medal contention. SFC Terri DeWitt (Columbus, Ga.) finished 26th with 67 targets and Susan Sledge (El Cajon, Calif.) was 33rd at 66 targets.
In Junior Men's 10m Air Rifle, Dempster Christenson (Sioux Falls, S.D.) finished 13th with 591 points. A few places down, Michael Kulbacki (DuBois, Pa.) was 37th with 585 points and Dustin Chesebro (Laramie, Wy.) finished 46th with 584 points.
For complete scores and rankings, please visit the International Shooting Sports Foundation (ISSF) website.
Dallas Safari Club (DSC) is a proud sponsor of USA Shooting's Junior Team to the World Shooting Championship Team in Munich, Germany. An independent organization since 1982, DSC has become an international leader in conserving wildlife and wilderness lands, educating youth and the general public, and promoting and protecting the rights and interests of hunters worldwide. For more information on DSC visit www.biggame.org.
ELEY is a Proud Sponsor of the USA Shooting Rifle and Pistol Teams: ELEY Limited, manufacturer of the world's most consistently accurate rimfire ammunition, has been the Official Sponsor and Official Supplier of .22 rimfire ammunition of the USA Shooting rifle and pistol teams since 2000. For more information on ELEY and their products, please visit www.eley.co.uk.
Winchester Ammunition is a Proud Sponsor of the USA Shooting Shotgun Team: Winchester® Ammunition has been the exclusive ammunition sponsor and supplier of the USA Shooting Shotgun Team since 1999. Members of the 2008 shotgun team brought home four medals from Beijing using Winchester AA International Target loads. Winchester is an industry leader in advancing and supporting conservation, hunter education and our country's proud shooting sports heritage. For more information about Winchester and its complete line of products, visit www.winchester.com.
About USA Shooting:
USA Shooting, a 501c3 non-profit corporation, was chartered by the United States Olympic Committee as the National Governing Body for the sport of shooting in April 1995. USA Shooting's mission is to prepare American athletes to win Olympic medals, promote the shooting sports throughout the U.S. and govern the conduct of international shooting in the country. Check us out on the web at www.usashooting.org and on Twitter at twitter.com/USAShooting.