Gunslick Pro Launches New and Improved Website
Redesigned website delivers the latest news and information on precision gun care products including premium cleaners, lubricants, high-tech tools, rods, accessories, kits and more, plus updates and gun maintenance videos from 32-time champion shooter Jerry Miculek.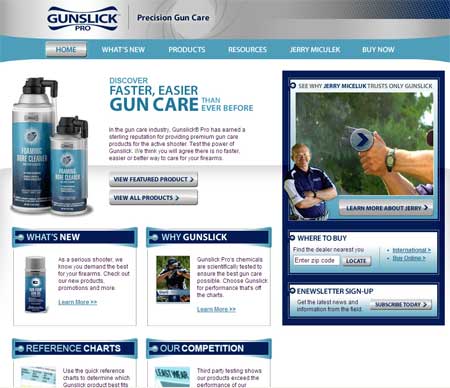 ONALASKA, Wis. –-(Ammoland.com)- Gunslick Pro unveils a sleek new, redesigned website at www.gunslickpro.com.
This contemporary site has been transformed to showcase specialized gun cleaning chemicals and easy-to-use, high-quality tools, while making the user experience simpler and more informative.
Visitors to the new Gunslick Pro website will be treated to a whole new experience when searching for their favorite gun care chemicals and tools. The newly redesigned website is the result of hard work from ATK's Web Team.
With a premium look—and lightning fast navigation—the new site makes it even easier for consumers to find the premium gun care they need.
Gunslick Pro designed the information architecture of its new website based on input directly from its users. Statistics on how real-world visitors used the company's previous website drove all the changes, resulting in a highly-effective, efficient and enjoyable experience.
The New Gunslick Pro Website Includes these Improved Elements:
Reinvented architecture, framework and content flow for quick loading speed and improved organization
Web-friendly material and text that is shorter and more to the point
Well thought-out navigation for fast product identification
Vivid images that capture shooting and hunting passions
Content on Gunslick Pro spokesman Jerry Miculek such as streaming videos and a calendar of Jerry's upcoming events
Learn more about Gunslick Pro at www.gunslick.com