Restore Open Carry Rights Event In Florida
Florida Open Carry event to be held in Daytona Beach on August 7th.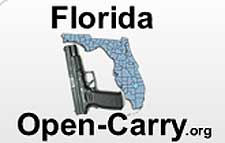 Florida –-(Ammoland.com)- Florida Open-Carry.org will hold another "Open Carry & Fishing Event" in the Daytona area at Port Orange Dunlawton Causeway Park on Saturday, August 7th from 10am to 1pm.
"This is an issue of all Americans fundamental civil rights being taxed and regulated in ways that have been struck down by the courts, and the will of the people, time after time." says Florida Open Carry founder Sean Caranna.

"The Constitution guarantees your right to bear arms, repealing the ban on unlicensed open carry will once again satisfy that requirement in Florida."

"We invite all law abiding citizens," adds Mr. Caranna, "regardless if you open carry or not, to join us for a day of fishing on the pier. We hope to again show that we are responsible members of our community who want our open carry rights restored in Florida."
Most states require no license to open carry, but Florida is one of only seven states with wide ranging prohibitions on carrying unconcealed handguns, even if properly holstered. This presents a huge problem in the summer heat or while engaged in many outdoor Florida activities.
It's just not practical, or even sometimes possible, to conceal a standard sized handgun in regular summer attire. But in accordance with the current Florida statute 790.25(3)(h), adults may carry an unconcealed handgun, without a license, while lawfully fishing or going directly to and from the fishing area. There are also similar exceptions for hunting, camping, and target shooting.
Florida Open-Carry.org is engaged in a campaign to restore open carry rights in Florida. If successful, this repeal will eliminate the practical and constitutional problems arising from generally restricting law abiding citizens to only licensed and concealed carry in Florida.
About: Florida Open-Carry.org is a grass roots organization of Florida residents who endeavor to raise awareness in the community of our second amendment rights. Our primary goal is to help educate others about their right to legally open carry and advocate for repeal of the general ban on open carry in Florida. Florida is one of only seven states where open carry is generally prohibited.
Join our Facebook Group at: http://www.facebook.com/group.php?gid=133834343298930
Follow us on Twitter at: http://twitter.com/FL_Open_Carry/