Pyramyd Air Celebrating Women in Shooting Week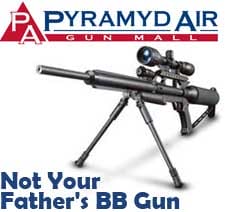 Warrensville Heights, OH – -(Ammoland.com)- Pyramyd Air is Celebrating Women in Shooting week November 6-12.
The shooting sports are growing, and more women are participating. Manufacturers have started to pay attention to the needs of female shooters and are producing guns that weigh less and have slightly shorter pulls.
Plus, they're introducing lots of colorful accessories (and guns) that they believe are appealing to women.
Annie Oakley
Probably the most famous female shooter is Annie Oakley. Born Phoebe Anne Moses, she had to shoot because she needed to put food on the table after her father's death. By the time she was a teen, she'd entered and won so many shooting contests that she was banned from entering many of them, again, because everyone assumed she'd win and no one else would pay the entry fee to compete!
When she was in her teens, she entered a shooting contest against professional sharpshooter Frank Butler. She beat him soundly. He took the defeat in stride…and eventually married her and became her business manager. When Buffalo Bill's Wild West traveling show hired her, she became an international sensation and was one of the most famous women of her day. Chief Sitting Bull, who was part of the show, nicknamed her "Little Sure Shot." She would be known by that moniker forever.
These days, many of our famous female shooters are Olympic athletes, including two-time Gold Medalist Kim Rhode, a double-trap shooter. The Olympic training center in Colorado Springs, Colorado, is where our Olympic hopefuls train. Most of today's Olympic shooting competitions are with airguns. Air rifle shooting requires the use of special clothing that helps stabilize the shooter in the offhand position and increases accuracy. Air pistol shooters don't wear special clothing. This type of shooting is done at 10 meters at paper targets, is the largest segment of airgun shooting and is enjoyed by well over a million shooters in the U.S.
There are several other airgun disciplines to investigate. Field target is a sport that was started in England and is enjoying a growth spurt in the U.S. because men, women and children can competitively participate. It involves shooting at a steel silhouette target that has a hole in it, called the "kill zone," that you must hit to get a point. It's shot from a sitting, kneeling, crouching or standing position, depending on the location of the target. The targets are set at varying ranges, usually from 10 to 55 yards. Generally speaking, field target is shot with Field Target Air Rifles, but there are some clubs that offer air pistol competitions, too.
Benchrest Shooting
Benchrest is another air rifle sport. It originally started as a sport for firearms. It involves shooting an air rifle at paper targets at set distances. The forearms of the guns are rested, but the shooter holds the rear of the gun. A certain number of shots must be fired within a set period of time. All shots are at one set distance.
Airgun silhouette is another discipline that started with firearms. It involves shooting solid silhouette targets of chickens, pigs, turkeys and rams that are set at different distances. There are separate competitions for pistols and rifles, and there are classes of competition within rifle and pistol so you compete against people who've spent about as much as you spent for your gun. This is an unusual aspect of classification but a welcome one. It prevents a shooter from using a very expensive gun to outshoot another person with a modestly priced gun. It really levels the playing field!
While there are a number of pink guns that manufacturers have aimed at female shooters, the selection for women is actually much larger. Colors are important for some women, but ergonomics make the shooting experience much more pleasurable. Choosing a lighter-weight gun and one with a slightly shorter pull (or an adjustable stock or buttpad) will go a long way toward making shooting more enjoyable for women who don't want to wrangle 9-lb. guns that are 4 ft. long!
One last thought: Many shooting instructors have found that women are better shots than men. The reason seems to be that women have fewer preconceptions about shooting and are more open to instruction. And, many women have greater concentration than men of the same age. I guess you could say that women tend to be natural shooters!
About:
Pyramyd Air sells airsoft guns, accessories and ammo from AirForce Airguns, Air Arms, Air Venturi, Beeman, Benjamin, Beretta, Browning, Colt, Crosman, Daisy, Eun Jin, Evanix, Falcon, Feinwerkbau (FWB), Gamo, Hammerli, Heckler & Koch (HK), IZH-Baikal, Magnum Research, Makarov, Marksman, Mendoza, Norica, Remington, Ruger, RWS Diana, Sam Yang, Sheridan, Shinsung, Smith & Wesson (S&W), Sumatra, Tanfoglio, Tau Brno, Umarex, Walther, Webley, Weihrauch, Winchester and others. Visit: www.pyramydair.com
Pyramyd Air provides professional product videos from Airgun Reporter Paul Capello (www.pyramydair.com/video) and a daily blog, Pyramyd Air Report (www.pyramydair.com/blog), written by Tom Gaylord, a.k.a. B.B. Pelletier. They also provide instructional videos at Airgun Academy.