The Women of USPSA Christmas Shopping Guide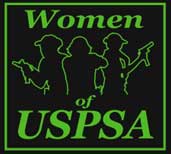 SEDRO-WOOLLEY, Wash. –-(Ammoland.com)- Ladies, let's face facts, with just a few shopping days left before Christmas your significant other probably needs help finding you the ideal shooting gift. So here's a list of gift ideas from the Women of USPSA to help that chronic procrastinator make sure he gets you the right gift.
Guys, listen up! Your wife, mother, niece, daughter, aunt, girlfriend or whatever deserves a great gift. Face it, she's had to put up with you all year long and Christmas is when that bill comes due. So to help you find the right gift that keeps her happy and you out of the dog house the Women of USPSA have come up with a list of suggestions.
USPSA Membership: The U.S. Practical Shooting Association is a family of over 350 clubs and nearly 20,000 members from across the country that love to shoot and compete. Instead of going your separate ways on that sunny summer Sunday afternoon, get her a membership, grab your range bag and join in on the fun. There are lots of couples that shoot so you won't be alone on the range. Go to www.USPSA.org to sign up today.
Custom Shooting Shirt: Gemini Custom Apparel (www.g2gemini.com) and TechWear USA (www.TechWearUSA.com) both make completely customizable shooting shirts that are comfortable, breathable and offer women the opportunity to hit the range in something other than the ubiquitous tactical black, tan or OD green shirts. Get her one, she'll look like a rock star on the range.
iKam Video Glasses: Seeing is believing and with the iKam video glasses (www.i-kamstore.com) the lady shooter in your life will be able to see exactly what she's doing right (because guys, she's never wrong) on the range. Used by many of the top shooters – both male and female – these glasses give her the opportunity to not just learn from her shooting but to share her best range highlights with friends and family through sites like YouTube.
Photo Shoot with Yamil Sued: Instead of going to that local mall photographer why not give your favorite lady a photo shoot with Yamil Sued. Yamil has shot all the top shooters and is recognized as one of the best in the firearms industry. Whether you're looking for action shots, match candids or portraits, Yamil is the go-to photog to make her look her best. Visit www.hotgunshots.com or contact Yamil at [email protected] for more info.
Babes with Bullets Firearms Camp: We hate to break it to you guys but sometimes she's going to want go shooting without you. That's where the Babes with Bullets™ camps come in (www.BabesWithBullets.com). They are a series of shooting camps for women held across the U.S. which offer practical pistol training for novice, intermediate and advanced shooters. Whether she's never held a handgun before, or an experienced competition shooter, there is a camp for her. Send her to camp…. so you can go spend the weekend shooting with the guys.
Tactical Solutions .22LR Barrels: We know it's hard for you to believe but sometimes we women want something that comes in a color other than black or stainless. Shocking isn't it? Well Tactical Solutions (www.TacticalSol.com) has just what you need – lots of .22LR products and accessories in lots of…. wait for it…. pretty colors. If she's smart she'll pick pink so you won't try and take her gun to the range.
Shot Timers: You think baby needs a new pair of shoes? Well she also needs a shot timer. How else will she know when she's shooting faster – and better – than you? Competitive Edge Dynamics (www.CEDhk.com) and PACT (www.PACT.com) are just two companies with a number of different models and color options to choose from.
Hearing Protection: Good hearing protection is one of the most important items a shooter can have in their range bag and the electronic models are among the most popular with competition shooters. Pro Ears (www.ProEars.com), EHP (www.EHPHearing.com) and Peltor (www.Peltor.com) each offer a wide selection with a variety of styles and, most importantly for her, lots of colors to choose from.
Gift Certificates: If all these suggestions are just too difficult for you to handle then take the easy way out with a GENEROUS gift certificate from Brownells (www.Brownells.com), Dillon Precision (www.DillonPrecision.com) or MidwayUSA (www.MidwayUSA.com). While a gift certificate tells her you couldn't think of anything to get her, a big dollar amount on it lets her know that you love her just the same. Did we mention generous?
IPSC World Shoot in Greece: 2011 marks the return of the IPSC World Shoot and this time the international practical shooting championships will be held in Greece. While slots are limited and the allocation for the U.S. has not yet been announced, a trip to Greece to compete against the world's best is the ideal present for the woman who has everything – especially since the estimated cost can be in excess of $3,000 to $5,000. Of course she's worth every penny and more, so contact the U.S. Practical Shooting Association for more information and slot availability.
Women of USPSA Gear: Finally, the woman shooter in your life needs to know she's not alone. There are plenty of great, and talented, women in the practical shooting sports and www.WomenofUSPSA.com is where you'll find them. Get on your computer and go to the Women of USPSA online store to order hats, shirts, hoodies and more featuring the stylish Women of USPSA logo. We've given you a great list of ideas so the least you can do to thank us – and show her you care – is to buy some of our gear.
Merry Christmas and Happy New Year from all the Women of USPSA.
About:
USPSA is a non-profit membership association. Most of the more than 15,000 individual members belong to and regularly compete at one of the nearly 400 affiliated clubs and sections (groups of clubs banded together for mutual benefit) located across the United States. USPSA is affiliated with the International Practical Shooting Confederation (I.P.S.C.), which is comprised of approximately 67 nations. USPSA is the American region of IPSC. Visit: www.uspsa.org