Women of USPSA Offers New "Approved by Athena" T-Shirt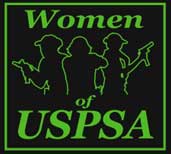 SEDRO-WOOLLEY, Wash. –-(Ammoland.com)- Capitalizing on the popularity of History Channel's Top Shot, the Women of USPSA have added three styles of a new T-shirt to their online store featuring a quote from Top Shot contestant Athena Lee.
Quoted in an interview with the FoxNews.com Entertainment blog, Lee said, "my advice for women who are interested in shooting—don't be afraid of a gun, it's just a tool…it's like having a baseball bat, but louder!"
Since appearing online on February 8, Lee's quote has been hailed by shooters, and women in particular, for it's witty message of empowerment.
The response has been so positive that it sparked one of Women of USPSA's contributors, Fran Terry, to suggest putting the statement on a T-shirt.
Women of USPSA received Lee's permission to use the quote and the "Athena approved" shirts are for sale on the group's web store.
Available in black in three styles – a men's tee, a women's tee and a women's tank top – the shirts feature Lee's quote, "A gun is just a tool. It's like having a baseball bat but louder" on the front. Available sizes are small to XL for the women's tank top ($16.40) and small to XXL for the men's and women's standard tee ($11.40).
For more information on Women of USPSA visit the www.WomenofUSPSA.com. To buy an "Athena approved" T-shirt, or any other Women of USPSA gear, visit their online store.