Bates and Dittus Joins Forces with American Tactical Imports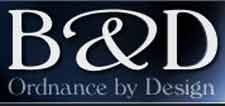 Rochester, New York – -(Ammoland.com)- Ed Dittus, Managing Partner of Bates and Dittus LLC (B&D) and Tony DiChario, President and CEO of American Tactical Imports (ATI) announced today an exclusive distribution agreement between their companies.
As of today, ATI has exclusive Worldwide rights to distribute all of B&D's products.
B&D is a relatively new, up and coming company whose products include the ExD-37, a 37mm launcher that has found wide acceptance in the law enforcement community.
Their line includes a pistol configuration launcher (the SML-37) and a consumer oriented launcher (TBL-37). Their newest product offering, the UBL-37, is an under barrel 37mm launcher that is convertible to a shoulder configuration and is being introduced at this year's Shot Show in Las Vegas.
ATI is the premier importer and manufacturer and distributor of quality firearms and accessories. ATI redefined the firearms business with their development and importation of small caliber rifles designed with the look and feel of military weapons.
Tony DiChario remarked that "We are extremely happy to join with B&D in marketing their products. They are unquestionably the best in the industry and as such are a great addition to our expanding product line."

Ed Dittus said "This is exactly the right opportunity at the right time for B&D. Expanding our channels of distribution to where we want them to be can only be accomplished with a partnership with a company like Tony's.

We are really happy with this opportunity and look forward to a successful future together."
For further information contact
ATI: www.americantactical.us
B&D: www.BatesandDittus.com