Constitutional Carry in Georgia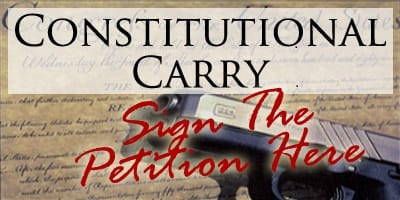 Kennesaw, Georgia –-(Ammoland.com)- With less than a week before the legislature convenes, now, more than ever, I need you to sign the petition to pass The Georgia Constitutional Carry or REAL Right-to-Carry Act.
And, if you haven't joined Georgia Gun Owners, I hope you consider doing so. Just yesterday, gun activists joined from cities all across Georgia. Suches, Dublin, Carrollton, Watkinsville, Fortson, Valdosta, Hogansville, Byron…just to name a few.
I hope you become the next member of Georgia Gun Owners. You won't be alone. Together, you and I can make Georgia the best state for gun owners in the entire country.
You and I need to contact our legislators through petitions, letters, emails, phone calls, and personal visits. You and I will get our liberty back when our legislators hear from us…day after day after day.
Let them know that we are not criminals and do not deserve to be treated as such just to defend ourselves and our families.
Please sign the petition to pass The Georgia Constitutional Carry or REAL Right-to-Carry Act by visiting our website.
Get involved. Stay involved.
Yours in liberty, Ashley Rodriguez
Press Secretary
Georgia Gun Owners
About:
Georgia Gun Owners in a non-profit, non-partisan, grassroots firearm advocacy organization dedicated to countering the gun control lobby through an aggressive program designed to mobilize gun owners and liberty activists across the State of Georgia, while seeking to enlist public support for legislation that would remove compulsory government requirements for gun owners throughout the state. Georgia Gun Owners' mailing address is 1635 Old 41 Hwy., Ste. 112-202, Kennesaw, Georgia 30152. Georgia Gun Owners can be contacted at 678-719-2348. Georgia Gun Owners' web address is www.georgiagunowners.org.