COR-BON Law Enforcement Training Center (CLETC)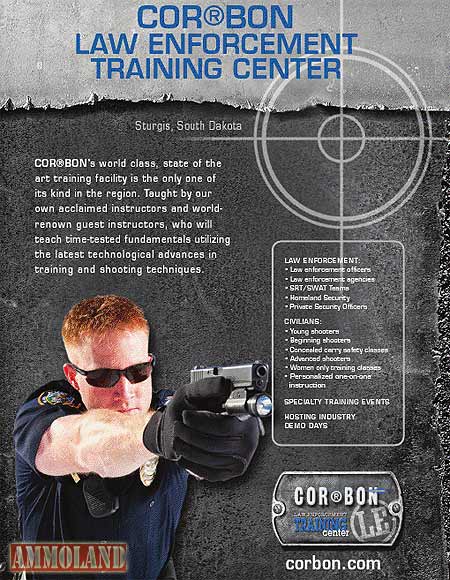 Load Sturgis, SD –-(Ammoland.com)- The same American family that brings you COR®BON Ammunition, is proud to announce their new endeavor; the COR®BON Law Enforcement Training Center.
CLETC is a new, modern firearms training center, located in Sturgis, South Dakota. It offers first class training for Law Enforcement agencies, individual officers, and civilians.
Although, geared primarily for the advanced standards of law enforcement training, the site will also be open to civilians seeking quality training. The facility offers handgun, rifle and shotgun, at various tactical ranges. The classroom is state of the art, with all the current technical equipment. Students will be taught in a positive environment using proven instructional programs.
A wide range of instruction, including NRA certified courses, will be offered for Law Enforcement personnel, beginners and advanced shooters. Nationally known and local instructors will help students develop their safety and shooting skills with all types of firearms. The objective of our certified staff is to ensure students become competent owners and users of firearms.
The location is secure, yet very convenient, nestled on private property within the Sturgis Community, just minutes away from Interstate 90, lodging and restaurants. The nearby Black Hills tourist destinations also offer leisure and vacation opportunities. Students will be able to enjoy an abundance of nature and relax in the comfortable atmosphere at the center and surrounding area.
Equipment, gear and ammunition will be available for purchase at the onsite Pro Shop.
Further training opportunities will be announced as CLETC matures. For more information and class schedule, visit our website or call our Director, Matt Veal. www.corbon.com 605-347-4544
About CORBON
Dakota Ammunition, manufacturer of CORBON/Glaser products, is an American Family owned and operated corporation for over 27 years. Our company uses only the highest quality components and we put our products through rigorous daily testing to insure that we bring you the safest products available. Our facility has the most modern manufacturing and pressure testing equipment in the industry. We are proud to put "Made in America" on all of our boxes. We stand behind our products 100%