ELEY Athlete of the Month Olympic Shooter Jamie Beyerle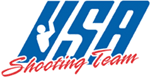 FORT BENNING, GA –-(Ammoland.com)- It should come as no surprise that the ELEY Athlete of the Month for June is recent International Shooting Sport Federation (ISSF) World Cup USA gold medalist Jamie Beyerle (Lebanon, Pa.).
As the top ranked Women's 50m Rifle Three Position shooter in the world, Beyerle took the lead with an astounding 10.8 final shot that put her on top of the podium in Georgia.
When asked about her ELEY Athlete of the Month nod, Beyerle said, "The ISSF World Cup in Fort Benning is always an exciting one since it is home to me and nothing is better than winning on your home soil."
Beyerle shot 585 qualification points to enter the final as the fourth ranked shooter. Despite a three-point difference between Beyerle and leader Annik Marguet of Switzerland, Beyerle surged ahead of the competition with a strong final of 98.2 points.
National Rifle Coach Major Dave Johnson said, "Jamie has been putting the world on notice that she will be a top contender in London. She has won the gold in four out of the last five ISSF World Cups and World Cup Finals; her long term hard work and perseverance continues to pay off."
With two ISSF World Cup gold medals during the 2010 season, a fifth place finish at the 2010 ISSF World Championships and another two ISSF World Cup gold medals this year, Beyerle is well on her way to shooting in the 2012 London Olympic Games.
Beyerle has been training daily in order to reach the podium, "My success the past couple months is due to the hard work I have been putting in on the range and all the support I get from USA Shooting, the U.S. Army Marksmanship Unit, ELEY and all the other USA Shooting sponsors."
USA Shooting would like to congratulate Jamie Beyerle for her hard work and wish her continued success for the ISSF World Cup in Munich, Germany.
ELEYELEY is a Proud Sponsor of the USA Shooting Rifle and Pistol Teams: ELEY Limited, manufacturer of the world's most consistently accurate rimfire ammunition, has been the Official Sponsor and Official Supplier of .22 rimfire ammunition of the USA Shooting rifle and pistol teams since 2000. For more information on ELEY and their products, please visit www.eley.co.uk.
About USA Shooting:
USA Shooting, a 501c3 non-profit corporation, was chartered by the United States Olympic Committee as the National Governing Body for the sport of shooting in April 1995. USA Shooting's mission is to prepare American athletes to win Olympic medals, promote the shooting sports throughout the U.S. and govern the conduct of international shooting in the country. Check us out on the web at www.usashooting.org and on Twitter at twitter.com/USAShooting.