Illinois Once Again Comes in Last Place Says Illinois State Rifle Association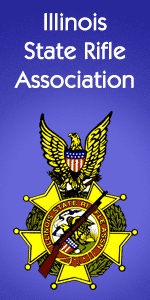 Illinois –-(Ammoland.com)- The officers, directors and members of the Illinois State Rifle Association are offering their congratulations to the good people of Wisconsin upon the passage of concealed carry legislation by the Wisconsin House of Representatives.
Passage of similar legislation earlier this month by the Wisconsin Senate along with Gov. Walker's pledge to sign a concealed carry bill means that the law-abiding citizens of Wisconsin will finally be able to lawfully protect themselves and their families from violent criminals.
This good fortune enjoyed by the citizens of Wisconsin underscores the ongoing plight of their neighbors to the south. Once the Wisconsin governor signs concealed carry into law, Illinois will be the only state in the nation that prohibits its citizens from protecting themselves with the most effective tool available – the defensive firearm. As recently as May, the Illinois House had the opportunity to pass life-saving concealed carry legislation. Unfortunately, a small but powerful contingent of Chicago lawmakers sabotaged the legislation, thus causing the bill to fall a half-dozen votes short of passage.
"A few members of the Illinois General Assembly have taken it upon themselves to decide who is worth defending and who is not," commented ISRA Executive Director, Richard Pearson. "By voting concealed carry down, they are clearly siding with the bad guys while letting the good people of Illinois take it on the chin from murderers, robbers, rapists and the increasingly-popular flash-mobs."

"This small band of legislative hold-outs believes that they can act with impunity," continued Pearson.

"But, we have news for them. The law abiding citizens of Illinois will fight tirelessly to recapture their right to self defense. This battle will be waged relentlessly at the polls and in the courts. Currently, there is a pair of federal lawsuits in the courts that address Illinois' persistent denial of the law-abiding citizen's right to self defense. We expect a favorable outcome in the courts but, if these actions fail, it just means that more actions will follow. Our determination on this matter is single-minded. We will fight until we win – no matter how long it takes."

"By now, Illinois is used to coming in last place in nearly every form of endeavor," said Pearson. "But one thing is for certain, Illinois comes in first place when it comes to placing politics before public safety."
About:
The ISRA is the state's leading advocate of safe, lawful and responsible firearms ownership. Since 1903, the ISRA has represented the interests of over 1.5 million law-abiding Illinois firearm owners Visit: www.isra.org