New Mounted Shooting Rig Unveiled In Bianchi Cowboy Line
Designed in Collaboration with World Record Holder Kenda Lenseigne.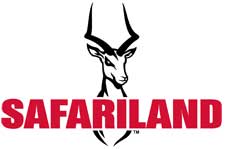 JACKSONVILLE, Florida –-(Ammoland.com)- Safariland, a BAE Systems line of business, announces the introduction of the Smokechaser mounted shooting rig designed by Kenda Lenseigne for the Bianchi Cowboy line of competition gear.
The first in a new offering of Kenda Lenseigne Signature Series cowboy rigs, the Smokechaser features a richly decorated design and a user-customized draw for high performance results.
"We're pleased to welcome world champion mounted shooter Kenda Lenseigne as a Team Bianchi member, providing the opportunity for her to work closely with our design engineers to develop a beautiful and functional holster rig specifically made for mounted shooting competition. Kenda has already set a new world record with her Bianchi rig.", stated Scott Carnahan, Vice President Marketing for the Safariland Equipment Products Group.
The Smokechaser holsters feature a strong-side ten degree cant and a crossdraw twenty degree cant in both right and left hand models to allow a quick draw from either hand.
The holsters include a user-adjustable hidden tension screw and are made from heavy weight 12 to 14 ounce, premium grade, full grain leather with steel reinforcements. The wide top opening design allows for easy holstering. The belt system is a two-piece design 2" wide with a 1.5" drop front piece and weight lifter style back support. The drop front is made to position the holsters comfortably and securely while on the course.
The holsters and belt feature a deep floral embossing on the cowhide portion with a stunning lambskin white snakeskin print insert. Offered in Black and Cognac, the black rigs use nickel-plated buckles and the Cognac models have brass plated buckles. Holsters are offered in two sizes to fit the Single Action Army revolver and replicas with 3.5" – 3.75" or 4.75" barrels.
Available now, these holsters and belts can be purchased direct at www.bianchicowboy.com or www.holsters.com and are also available at select Safariland and Bianchi dealers.
MODEL MSRP
Smokechaser 1850H Holster $125.00
Smokechaser 1850CH Cross Draw Holster $125.00
Smokechaser 1850B Belt $168.00
For more information about Bianchi holsters or other products, visit www.bianchi-intl.com or www.bianchicowboy.com.