Champion Targets Announces Third-Annual Range Contest – Online Entry Now Open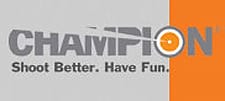 ONALASKA, Wis. –-(Ammoland.com)- Champion announces the third annual Range Contest. This promotion gives shooters a chance to win a fully-outfitted personal shooting range system worth more than $1,700—all with a 200-word online essay submission. Two additional prize packages are also up for grabs. Legendary exhibition shooter Tom Knapp will determine the finalists.
Contest Details
Shooters can enter the Champion Range Contest at www.ChampionBackyard.com. A compelling 200-word essay describing why they are the perfect contestant to receive a fully-outfitted shooting range system is all it takes to win. To submit essays and see the official rules, go to www.ChampionBackyard.com.
Amazing Prize Packages
Three lucky shooters will each be awarded a personal shooting range system. The grand prize is a fully-loaded shooting range system worth more than $1,700. Two additional prize packages also include some great Champion gear. All of the shooting range systems are filled with the latest and greatest from Champion—trap throwers, VisiColor targets, eye and ear protection, shooting accessories and more. Check out the complete prize packages and see some suggested range layouts online at www.ChampionBackyard.com.
New from Champion: Stunning VisiColor Zombie Targets
Champion's latest targets are VisiColor Zombies. These targets deliver vivid, high-resolution images for ultimate realism. VisiColor technology indicates different shot zones with different colors. Bright radiation green color show hits to vital zones. Body shots deliver fluorescent yellow reactions. Misses and accidental hit to hostages and background areas appear white. Look for these targets to arrive on store shelves by Labor Day.
Two different VisiColor Zombie Target variety packs will be available; both consisting of three designs with two targets each. Bulk packs featuring two additional designs will also be on sale. To see "Eddie the Executive" and his freaky friends, visit www.championtarget.com/targets/interactive/visicolor_zombie.aspx.