2012 National Knife Law Preemption Campaign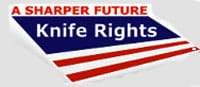 Gilbert, AZ –-(Ammoland.com)- Knife Law Preemption prevents cities and towns from passing a patchwork of unreasonable knife laws and repeals existing local knife laws.
Knife laws should be consistent across any given state so that you don't have to fear senseless prosecution just for crossing an arbitrary political line with your knife. Knife Rights chairman Doug Ritter recently did a video, (viewed above) to explain what Knife Law Preemption is all about.
You can also view the video on the Knife Rights YouTube channel. www.youtube.com/user/KnifeRights
Knife Law Preemption is the essential foundation for improving knife laws. Without strong preemption, passing good knife laws at the state level can be easily undone by more restrictive local ordinances. (Read more about Knife Law Preemption here.)
Due to the efforts of Knife Rights, in 2010 the Arizona legislature enacted the nation's first Knife Preemption Law. Utah and New Hampshire followed suit earlier this year. Now we are looking ahead to the 2012 legislative sessions.
Knife Rights has launched preliminary efforts is as many as 10 states for 2012, but if we are going to be successful we need YOUR help. Passing Preemption in a state costs Knife Rights thousands of dollars. Every dollar you give helps to move things along and build momentum so that we can eventually pass Knife Law Preemption in all the states. For a Sharper Future tomorrow, we need your financial support TODAY! Please make a contribution NOW!
About:
Knife Rights (www.KnifeRights.org) is America's Grassroots Knife Owners Organization, working towards a Sharper Future for all knife owners. Knife Rights is dedicated to providing knife owners an effective voice in public policy. Become a Knife Rights member and make a contribution to support the fight for your knife rights. Visit www.kniferights.org