Whitetail Properties Launches Improved Website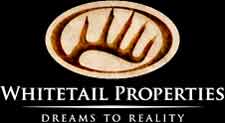 Pittsfield, IL. –-(Ammoland.com)- Whitetail Properties, Hunting, Farm and Ranch Land Specialists announce a new and improved website that features a bold new look with reorganized content to give visitors easier navigation and greater visual appeal to property listings.
Whether you're looking to buy land, needing helpful habitat information, wanting to view the current Whitetail Properties TV segment or just simply enjoy window-shopping, this new site is designed with the user in mind. The newly redesigned website will let you quickly access information and services offered from the Land Specialists. Please take a tour at www.whitetailproperties.com
Whitetail Properties is also pleased to announce a new division, Waterfowl Properties. Launching along with the main site is a dedicated waterfowl website filled with the premier waterfowl habitat property listings on the market today. This new website will open opportunities to begin separating property listings into focus markets and sectors. Please take a moment to visit this bold new site: www.waterfowlproperties.com
Also included within the new Whitetail Properties website launch comes Whitetail Properties Dreams to Reality Blog, an all new feature that will contain subject content on land ownership, buying and selling land, habitat improvements, hunting tactics, all things land and hunting. The blog will feature contributions from Whitetail Properties staff, Whitetail Properties Pro-Team members and the extensive team of land specialists. The goal and vision for the Dreams to Reality Blog is to be a go-to searchable database for clients and fans. The blog is currently live with new content being uploaded every week. Visit the blog today: www.whitetailproperties.com/blog
"For many, when it comes to searching for that special patch of land to grow and knock a big buck down, maybe to establish a legacy to pass along or just to play in the dirt, their first stop is this website," Paul Sawyer, COO, says.

"We are always looking for improvements to meet the needs of our clients and feel with this new redesign we have made a large step toward doing just that."
About
Located in Pittsfield, Ill., Whitetail Properties is a recreational real estate company offering land throughout the Midwest. We recognize that buying or selling hunting, farm or ranch land is one of the most important financial transactions you can make. Our goal is to treat each customer with the highest level of courtesy and respect to ensure they are satisfied with every detail of their land experience. Whitetail Properties recruits and works with a select team of specialists of the most skilled, honest and hard-working recreational and agricultural land experts in the country. Whitetail Properties utilizes the popular award winning show, Whitetail Properties TV, appearing on the Sportsman's Channel to showcase the benefits of owning recreational real estate.
Contact
Randy Bowden (217-285-9000) [email protected]
For more information, check out www.whitetailproperties.com.