By Bob Shell
Apache Junction, AZ –-(Ammoland.com)- You're here because you need to know how to reload ammo. Once you decide to reload your own ammunition there is some basic equipment that you need to get started as a full-time reloader.
The first thing is you need a space to set up shop. It can be a spare room or a corner of a garage as long as you have some space and a way to have good lighting.
There should be enough room to have a table and some shelving space. You need a sturdy table to mount your reloading press too and other equipment while having some space that gives you room to work. I would suggest a table at least 6' long to accommodate your setup. Shelving is necessary to keep such items as reloading dies and supplies such as bullets and powder organized. Once you have your reloading work area set up then it's time to buy your equipment.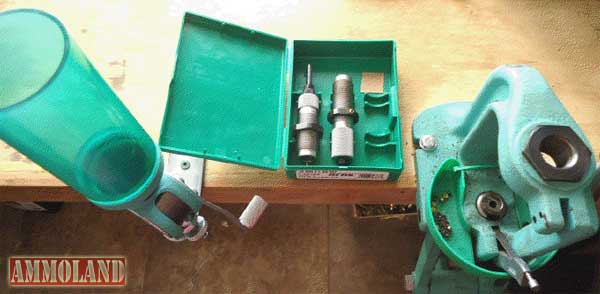 Most people get into reloading to save money on their ammo. One fact of life is you will have to first make an investment into buying equipment and supplies before you can begin saving cash on ammunition. The basic equipment that you need is a press, dies, scales, powder measure and a few basic shop tools such as screwdrivers and Allen wrenches. You also may need a lube pad, vernier caliper, and a bullet puller, more on these tools below. You are looking at about $400.00 investment for a complete reloading starter kit plus the cost of supplies such as primers and bullets. You will also need at least one reloading manual preferably more. That will get you started.
The purpose of the press is it holds the dies which are needed to process the ammo. Each caliber requires a set of dies and I will go into that later as to why and how to set them up. The press needs to be securely mounted to the table so that cases can be resized which takes some physical effort, especially with rifle ammo. There are a variety of presses made by various companies. Each manufacturer, everyone from Lyman, Hornady and RCBS, and Redding, all make good presses. Another option is a Lee Press.
For a new reloader you should look at a single stage press only. The progressives are great but if you are not familiar with reloading they can get you in trouble. With a progressive several things are going on at one time and you may miss a problem, causing you to load a batch of bad ammo.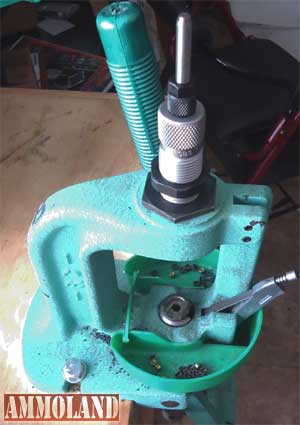 Presses come in different sizes though I would go with a heavy-duty model because you can do both rifle and handgun ammo.
Any caliber that you reload for is die-specific. For instance, if you want to load 40 S & W ammo you need that set of dies. Reloading is a precise operation and trying to use the wrong dies will not work for you. If you are loading a modern straight case then I recommend carbide dies. They make your sizing job easier plus last forever. Another nice thing is you don't have to lube your cases as you do with rifle fodder. Like the presses, there are various makers of dies who also make the presses and other equipment.
A powder measure and scales are necessary in order to put the proper amount of powder in your cases. That is vital if not mandatory to ensure the safety and reliability of your ammo. This is where the reloading books come in handy.
You can look up the caliber you are loading for and get the proper type and amount of powder necessary. The data was developed in labs by professionals and should be followed closely. Also, the books give you a lot of good info on reloading techniques and problem-solving. Most provide a hotline if you run into a problem you can't solve. I would go with several books on reloading or reloading manuals as they are a good investment.
If you load rifle cases you need a case trimmer as they will stretch when fired. How much depends on various factors but it is necessary to keep them at a proper length in order to produce quality ammo.
A vernier caliper is needed to measure the length. You can consult a reloading book for the proper length as that info is provided. Also when loading rifle cases a lube pad is necessary. If you don't lube the cases one will get stuck in the die which is a real headache to remove. A brush to lube the inside of the case neck is also desirable.
With this, you have most of the basic equipment that you need to get started. You will pick up various other items and gadgets as you go along. After you get your table set up and before you start I urge you to do some reading or watch some videos which will help. You need to pay attention to every detail to ensure quality and safe ammo. We will go into the how and why in future installments.
When contemplating whether or not you want to reload here are a couple of things to think about. First of all, reloading is a very safe hobby if you follow the precautions and use common sense. When reloading, don't allow distractions to creep in. That means no texting, watching TV or anything else that will draw your attention to the task at hand.
If you are not the type of person that pays attention to detail then reloading isn't for you. I have been doing it for over 40 years and never had a serious mishap. It is a great hobby well worth exploring.
---
About Bob Shell

A Custom Reloader of Obsolete and Antique Ammo, Bob Shell, writes about the subject of Guns, Ammo, Shooting and Related Subjects. Visit: www.bobshellsblog.blogspot.com