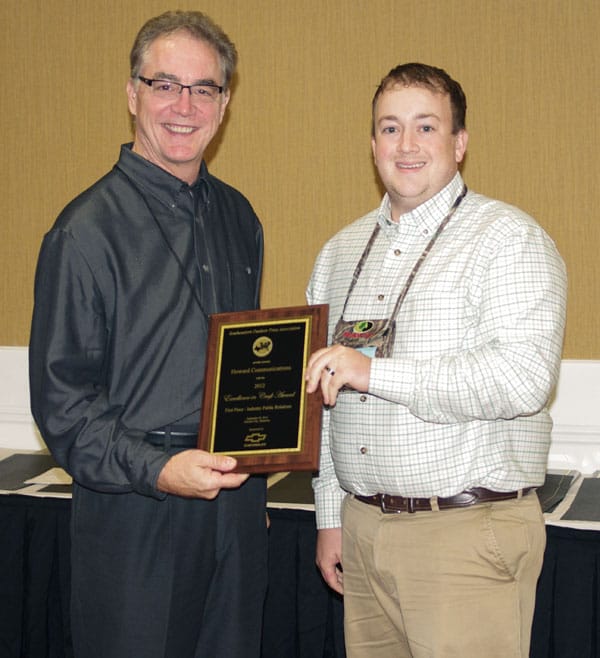 Johnson City, Tennessee -(Ammoland.com)- At the recent Southeast Outdoor Press Association (SEOPA) Conference held at Johnson City, Tennessee, Howard Communications, Inc. was awarded 1st  Place in the Industry Public Relations division of the Excellence in Craft Awards.  The award is for any public relations program designed to inform the public or service a member of the outdoor media.
Howard Communications, Inc. received the award for adding QR Codes and Online Videos to their clients' 2012 press releases.  These new technologies allow the media to offer interactive information to their readers.
No longer is the story or gear review only just a printed page in a magazine or newspaper to be read.  QR Codes allow the reader to view a product video by scanning the code with their smart phone or tablet.
Beyond providing a better means of communicating the product information to the media, the media now has video available to enhance their editorial coverage and convey the information to their reader/follower.  The Online Videos are placed on special interest websites, retail websites, company websites, blogs, online magazines, Facebook and YouTube to bring the information to life.
The Excellence in Craft Award is given each year to members whose work best exemplifies high professional standards. The SEOPA EIC awards are a highlight of the conference.  Accepting the award for Howard Communications, Inc. was Andrew Howard.
The latest online videos and QR codes can be found on the Howard Communications website, Facebook Page, YouTube Channel, and iPhone, iPad, and Android App.
The Southeastern Outdoor Press Association (SEOPA) is a nonprofit professional organization serving a membership spanning fourteen southeastern states. Members include magazine and newspaper writers, book authors, photographers, radio and television personalities, lecturers, editors, artists, industry representatives and others in the outdoor communications field.
Howard Communications, Inc. is a public relations firm representing several outdoor companies.  Our clients are: ALPS OutdoorZ, Birchwood Casey, Browning,  Browning Camping, Winchester Repeating Arms,   D. T. Systems, Hunter's Specialties, Mossy Oak, Nestle Purina PetCare and Bushnell Outdoor Products who sells its products worldwide under the Bushnell, Tasco, Uncle Mike's Law Enforcement, Stoney Point, Hoppe's, Butler Creek, Uncle Mike's, Final Approach, Simmons and Millett brand names.