Editors Note: AmmoLand asked Chris Bieling of LAN World to give us some background on their business and let our readers know more about this California innovator in the firearms industry. Here is what Chris had to say.
SALT LAKE CITY, UT –-(Ammoland.com)- LAN World, Inc. started in March of 2003 in Salt Lake City, Utah by Chris Bieling as a provider of California Compliant firearms.
By partnering with the creator of the first California compliant parts kits for AR-15 style firearms, LAN World quickly grew into one of the largest distributors of California compliant firearms in America.
We created kits for all types of firearms to make them California compliant and made these products available to a once isolated customer base.
LAN World has become the premier California distributor for almost every major manufacture. We still hold and value those relationships today. Our tag line of "we cater to California and the rest of the free world" quickly become the slogan for several years. Distributing to California helped secure our branding and reputation for superior customer service and reputation for always doing the right thing for the shooting community. LAN World was one of the few companies to advertise California compliant firearms on a billboard in Los Angeles California.
Even today, LAN World is still the exclusive California distributor for companies such as Stag Arms, Kahr Arms and Century Arms. At the 2012 SHOT show in Las Vegas, Nevada LAN World was presented with the "California distributor of the year award" as well as the "One in a million"award from Stag Arms.
Today if anyone is interested in dealing with the California shooting market they contact LAN World, Inc.
LAN World also caters to the Law Enforcement community and is currently the Law Enforcement Distributor for DPMS for the Western Region of the United States as well as Stag Arms and other manufactures. LAN World supports the police FOP members and offers discounts to active police officers as well as active military personal.
LAN World helps those that help us. Our business provides firearms to police agencies across America as well as individual officer purchases on and off duty. LAN World has provided firearms to police departments, correctional facilities and government agencies and is constantly working on quotations for new departments.
An interesting fact is we are the co-holder of a patent on the POD QUAD which is an AR-15 mounted quad rail system with integrated bi-pod legs. In dealing with the law enforcement community we designed a drop in rail system where agencies can upgrade their current AR-15 rifles with a quad rail platform plus the benefits of a bi-pod. With the flush stowed legs the POD QUAD allows for vehicle storage rack use with no interference from the bi-pod or the legs. The POD QUAD is available to the consumer market and has been met with very positive feedback due to the superior quality and design as well as being 100% made in America. Companies like Stag Arms carry the POD QUAD.
In collaboration with Stag Arms, LAN World created and is the manufacture of the "2012 Executive Survivors kit". This kit is featured in the October 2012 issue of Guns and Ammo magazine and the Guns and Ammo book of the AR. The NRA called the 2012 kit the most unique item at the 2012 SHOT show. Marketing in line with the Mayan end of the world 2012 theory the 2012 survivor's kit is marketed toward the consumer who wants a well thought out kit that is high in quality, value and is functional. The 2012 kit has been met with very favorable reviews and is in several shooting publications.
LAN World also has a global presence and is the US importer for HERA-ARMS, Germany. HERA manufactures high quality aftermarket parts for varies platforms. They make stock kits for the HK SL8 rifle and the HK USC rifle. HERA also makes pistol stock conversions such as the Glock stock (GCC), the CPE stock for 1911 pistols and the multi platform Triarii stock. HERA is also making high end AR-15 rifle accessories such as upper receivers, free floating hard guards, and muzzle compensators to name a few. The quality, fit and finish of HERA products is second to none and their products fit in line with LAN Worlds passion for high quality, unique items for the firearm community.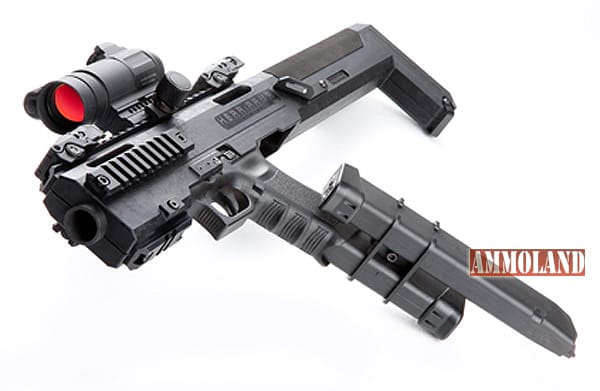 To keep with its tradition of setting the pace for the future LAN World has opened its first product showroom in Salt Lake City, Utah. Soliciting the help of a design team LAN World created a very modern, edgy feeling space. LAN World wanted to change the "feel" of the typical gun store and change up the industry by creating a trendy, intimate feeling showroom that offers the "white glove" type of customer service that is typically reserved for the finest of retailers. Having a showroom allows customers to see, hands on, the unique product line up including the 2012 kit, the POD QUAD, HERA ARMS' products as well as others. Customers that arrive in the showroom immediately feel like they are in a modern art gallery and not in a gun store.
LAN World demands the best customer experience and it is not uncommon to have a personal sales professional spend over an hour with a guest. Feedback is overwhelming in support of this new vision of firearm retail space and LAN World hopes to open other locations to help share their vision of how the firearm retail experience should be.
Please take some time to visit us online at www.lanworldinc.com