NBC Anchor and Meet the Press Host David Gregory breaks DC gun laws while insisting on more gun laws!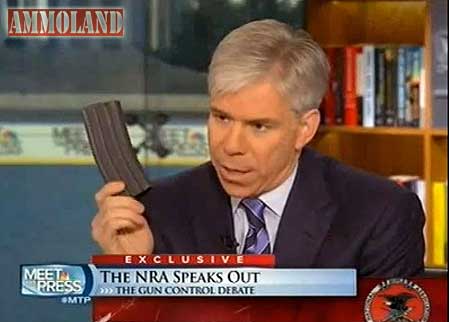 Manasquan, NJ –-(Ammoland.com)- During a long anticipated interview with Wayne Lapierre of the National Rifle Association on Sunday December 23rds episode of "Meet the Press" , NBC Anchor and Host David Gregory violated a Washington DC gun law, while angrily demanding that Lapierre and the NRA acquiesce on the need for more gun laws.
Gregory held up a STANDARD CAPACITY 30 round magazine for a modern sporting rifle known by its model name, the AR-15. Using it as a prop to drive home his demands.
Gregory's mere possession of the magazine at any point within the DC metro area is a violation of District of Columbia Gun Laws.
Gregory performed his stunt in front of 100's of thousands of eye witnesses, who watched it happen live. As of today, there is no word yet if or when Gregory will be charged with his violation, if not, it certainly wont be for a lack of witnesses, or evidence, since the program was certainly recorded as it was broadcast.
If he is not charged with the criminal act by DC Metro Police, then it will only help prove the argument that there are one set of rules for the elites among us and another set for the " little people".
A concept which runs directly contradictory to the way our justice system is supposed to work, with the law being applied equally to all.
In another revelation of Gregory's startling hypocrisy, it was learned that his children attend a prestigious DC Area private school which employs armed security, an idea Gregory spent nearly the entire interview of Wayne LaPierre lambasting and criticizing the NRA for even suggesting, in one of the most hostile public television interviews in recent history.
Gregory's now takes his rightful place in the annals of other elitists, along side Dianne Feinstein, Chuck Schumer, Barbara Boxer, Frank Lautenberg, Chris Matthews, Piers Morgan and the head of the ultra left wing organization Media Matters and many , many others who are perfectly fine with the idea of self defense with firearms, as long as it them and their loved ones being afforded that protection, and not the rest of us.