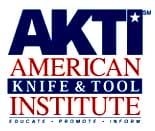 WASHINGTON, DC –-(Ammoland.com)- The American Knife & Tool Institute (AKTI) leads an initiative by the knife industry to address the issue of counterfeiting and its negative impact on manufacturers and consumers.
Counterfeiting, the manufacture and sale of knives and other products without the permission of the owners of intellectual property such as designs, mechanisms, word marks, logos, and product names, has become an increasing problem for the knife industry in recent years.
The latest in a series of online articles available on the American Knife & Tool Institute's website describes the nature of the counterfeiting issue, its impact on the industry, and the efforts spearheaded by AKTI that are gaining momentum in the battle against it.
"Counterfeiting is a two-part problem," explained AKTI Executive Director Jan Billeb. "It is a problem for the industry, companies, and knifemakers, but it is also a problem for the customer and the knife owner. AKTI is working on the issue for the entire knife community by seeking solutions for those that make knives and for knife owners by educating them on the problem."
Rod Bremer of Columbia River Knife & Tool, Les de Asis of Benchmade Knife Company, and Anne Reeve of Chris Reeve Knives also comment on their companies' experiences with counterfeiting. These range from substantial losses in revenue for knife manufacturers and confusion on the part of the customer to inferior product performance and severe brand erosion.
AKTI continues to develop strategies and tactics to deal with counterfeiting. Last February, AKTI conducted a roundtable conference to address the issue, and the organization is hosting a workshop during the 2013 Blade Show on Sunday, June 2 in Atlanta, GA.
To view this informative article and for more on AKTI and its mission, visit the website at www.AKTI.org.
For more information, call (307) 587-8296 or visit the American Knife & Tool Institute website at www.AKTI.org. The mailing address is 22 Vista View Lane, Cody, WY 82414-9606.
Or follow AKTI at:
http://www.Facebook.com/SaveOurKnives.

http://twitter.com/SaveOurKnives
About AKTI (www.AKTI.org)
The American Knife & Tool Institute is the non-profit advocacy organization for the knife industry and all knife owners. Its mission is to ensure that Americans will always be able to make, buy, sell, own, carry and use knives and edged tools. Formed in 1998, AKTI is dedicated to educating, promoting and providing timely, relevant information about knives and edged tools as important tools in daily American life.