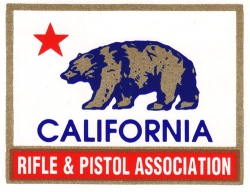 Sacramento, CA –-(Ammoland.com)-California Rifle and Pistol Association is pleased to announce its sponsorship of this year's WEST COAST STEEL CHALLENGE.
This event is one of the most significant action shooting events on the west coast this year.
It is the PREMIER Steel Challenge in the WEST. With over $80,000 in prizes (including over 30 firearms), makes this match the richest action shooting event in California.
The West Coast Steel Challenge will take place at the historic ISI Steel Challenge Range in Piru, California on June 22 and 23. The match will consist of all eight steel challenge stages and will attract some of the most notable competitors in action shooting today. As a match sponsor, CRPA is also co-sponsoring a great side match with Promag/Archangel, along with Tactical Solutions. This "Nomad Speed Shoot" will offer competitors an additional opportunity to win some great prizes, including a Ruger 10/22 mounted in Promag's industry leading Nomad conversion stock.
Whether you are an experienced Steel Challenge competitor or an action shooting novice, this will be a fantastic chance for you the compete. And with the "random walk" prize table, virtually everyone is guaranteed a chance to earn back their entry fee in great prizes.
Support the CRPA and its partner by participating in this year's West Coast Steel Challenge. For details, consult the match web site at www.westcoaststeelchamps.com.
About:
The California Rifle and Pistol Association "CRPA," founded in 1875, is dedicated to defending the rights of law-abiding citizens to responsibly use firearms for self-defense and the defense of their loved ones, for sport, and for all other legal activities. CRPA is the official state association of the National Rifle Association. A California non-profit association, CRPA is independently directed by its own Board of Directors. CRPA's members include law enforcement officers, prosecutors, professionals, firearm experts, the general public, and loving parents. CRPA has always worked to reduce the criminal misuse of firearms and firearms accidents, while actively promoting and organizing the competitive shooting sports and Olympic training programs in California. We are proud to say that many CRPA competitors are among the best in the world. Visit: www.crpa.org