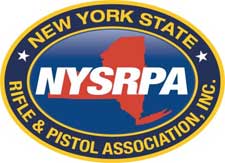 Albany, New York –-(Ammoland.com)- The New York State Rifle & Pistol Association Political Victory Fund is pleased to endorse Jeff Gildersleeve for Saratoga County Sheriff.
Our endorsement is based upon his background as a firearms instructor who has educated students on safety, responsibility and shooting skills, as well as his strong commitment to the preservation of Second Amendment civil rights.
NYSRPA encourages Saratoga County residents to support Gildersleeve in both the primary and general elections.
https://www.facebook.com/pages/Jeff-Gildersleeve-for-Saratoga-County-Sheriff/443882755703161
About:
The New York State Rifle & Pistol Association is the state's largest and oldest firearms advocacy organization. Since 1871, our organization has been dedicated to the preservation of Second Amendment rights, firearm safety, education and training, and the shooting sports. Our membership consists of individuals and clubs throughout the state. We are a not-for-profit 501(c)4 organization and the official NRA-affiliated State Association in New York. Visit: www.nysrpa.org